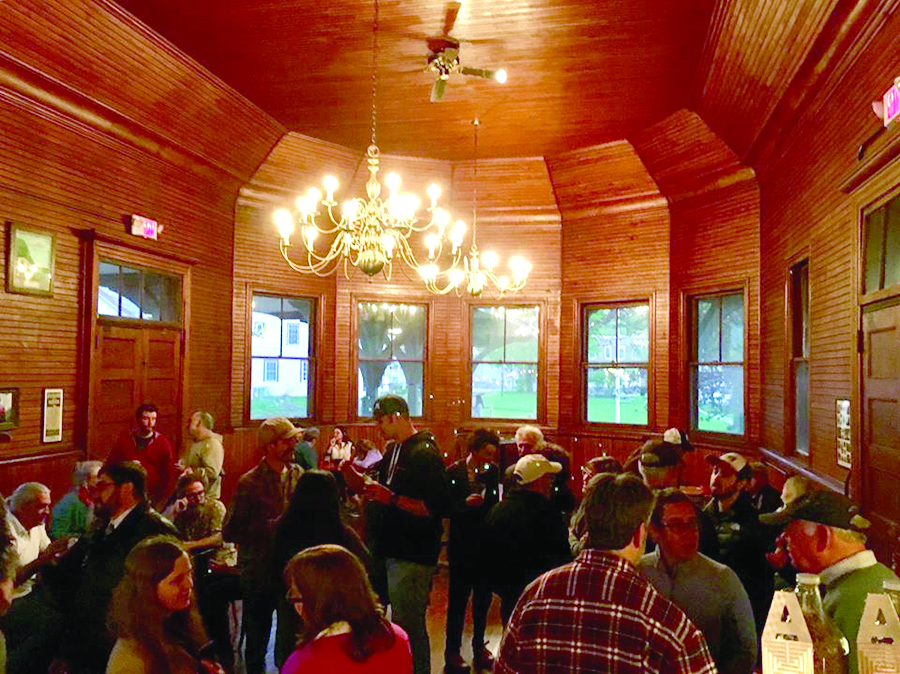 By Jennifer Farnsworth
Matt Stewart and his business partners Chris Castrio and Rich Thomas are continuing their quest to make "farm-to-glass" beer something that more and more people can enjoy.
They just opened their second Argyle Brewing Co. taproom in May at the former Cambridge train depot, 6 Broad St., Cambridge. Stewart said the character of the station was an instant selling point for him. He also has a sentimental tie to the spot.
"I was married in the Railroad Museum of Pennsylvania in Strasburg, Lancaster County, so I took it as a sign," said Stewart.
The location is part of a partnership with Hubbard Hall, who Stewart said approached him and his partners with the idea. He said they weren't quite ready to open a second location, but they fell in love with the character of the space and thought it would be perfect.
He said they hope to eventually have five locations. Cambridge is the second. The other is in Greenwich at 1 Main St.
"At first our heads were spinning, but it's been good. It ended up being good timing," said Stewart.
The 2,000-square-foot Cambridge spot can seat up to 67 people inside and 56 outside. Despite the new location being larger than the Greenwich location, all of the processing part of the brewery is done in Greenwich. They have seven ales and two ciders on tap in Cambridge, all with a flavor that Stewart said is unique to the area.
He said the process of opening up the Cambridge brewery took about eight months. Right now, they have four full-time employees and  two part time. Although they do not serve food, Stewart said they are working with some local restaurants to form a partnership that will allow them to deliver.
Another aspect of the brew company is supporting local musicians. Stewart said many local talents are scheduled to play. He said that partnership is a win-win situation.
"They provide the entertainment, which our patrons love, and they get the exposure. We are really very fortunate to have so much musical talent," said Stewart.
Despite being named the Argyle Brewing Co., Argyle is not a location for either location. The reason is Argyle is a dry town and alcohol is not allowed to be served.
The company's slogan in response to this is "dry town-wet basements."  Stewart  said they are dedicated to Washington County. One of the main goals is to support local farmers by making them part of the craft beer industry. Stewart said the feedback from local patrons and farmers has been very positive at both locations.
"So far in Cambridge, the response has been very, very good. We are so pleased with how it's been received," said Stewart.
The state's Farm Brewing Law was passed in 2012. Under the new law, in order to receive a Farm Brewery license in New York State, the beer must be made primarily from locally grown farm products. Stewart said close to 90 percent of their ingredients are grown locally.
The hours of the Argyle operation will be the same as the Greenwich taproom which is 4-8 p.m. Wednesdays and Fridays; 5-8 p.m. Thursdays; 11 a.m. to 8 p.m. Saturdays; and noon to 5 p.m. Sundays.
For more information visit, www.argylebrewing.com.