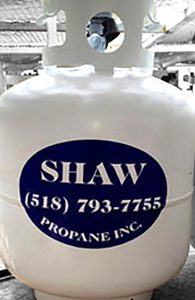 By Liz Witbeck
Propane is said to be one of the most efficient sources of energy. Millions of Americans use propane instead of other heating alternatives.
"Many people like propane because of the versatility," said Ken Buhrmaster, owner of Buhrmaster Energy Group, which merged with Shaw Propane, 1470 Route 9, Fort Edward, and serves the Lake George Glens Falls region.
Shaw Propane has seen many recent trends in the propane and fuel industry, he said.
"A lot of people are purchasing propane in rural areas," noted Buhrmaster. "These are people who previously used oil and are making the switch."
"It is a competitive industry. There are many companies to choose from. There are different types of delivery, types of services," Buhrmaster said. "There is the ability to choose your own supplies."
Buhrmaster is the fourth generation in his family to be involved in the energy industry. His family started the business in 1913. They currently serve 12 counties throughout New York state.
Propane is liquefied petroleum gas. It is used to heat the appliances in the home or any other number of uses. It is a valuable alternative to natural gas or heating oil.