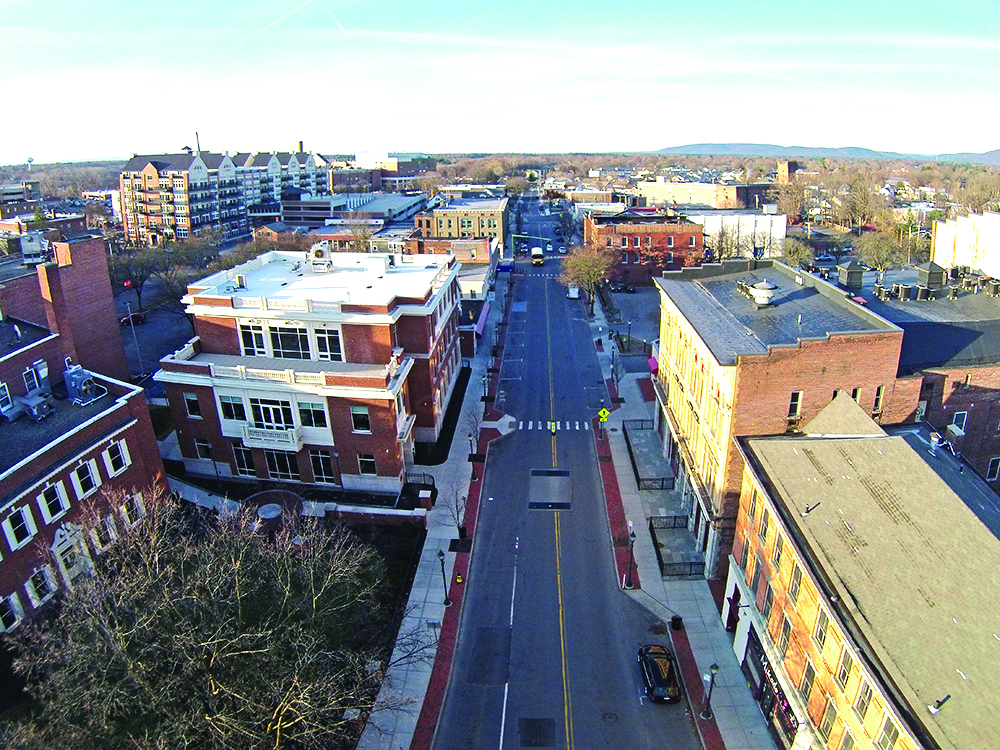 By Maureen Werther
Soon after Glens Falls was awarded $10 million as part of the state's Downtown Revitalization Initiative (DRI), city officials, business owners and members of the community went to work identifying and compiling its DRI plan, which included a priority listing of downtown projects.
The final plan, approved in February, is about to get underway.
According to Ed Bartholomew, president of EDC Warren County, his organization and the city have been working closely with Empire State Development, the Department of State, and the state Division of Housing and Community Renewal to prepare key components of the various approved projects.
Bartholomew, Initiative co-chairmen Omar Usmani, Dan Hall and others have met with state officials to review protocols and the procurement process for implementing the projects that have been identified.
EDC and city representatives also met with the organizations involved in the DRI projects to develop procedures and plans for moving forward, Bartholomew said. There is a lot of paperwork to manage and officials are being diligent to closely follow proper procedures.
The initial phase of the DRI will include $600,000 going toward façade improvements, developing a program to assist with local retailers, nonprofits, the Adirondack Film Festival,  the Adirondack Film Commission, and capital project improvements for the Charles R. Wood Theater.
The funding is structured as a loan to businesses, who—if they meet certain criteria, such as creating jobs—would not have to repay the loan.
Another $160,000 is set up as a competition for entrepreneurs looking for start-up funding for their businesses. Bartholomew said he is hopeful that the competition will be in full swing by December.
An additional $500,000 will go to move the SUNY Adirondack culinary program to a downtown location to be selected by the college.
The redevelopment of the South Street area will include the "Market on South Street," a year-round farmers market that house a USDA-certified kitchen, indoor and outdoor market space, and community space for events. The goal is to provide a mixed-use space to highlight and promote products of small food entrepreneurs and agricultural producers within Warren and Washington counties, including maple syrup, dairy products and additional locally grown products.
An educational component focusing on healthy food and nutritional programs will be developed in conjunction with the SUNY Adirondack culinary school, Cornell Cooperative Extension Warren County and other local and regional resources.
According to Bartholomew, there will be incentives for funding key businesses, such as specialty food stores and others, that will complement the development project. He said that they will be requesting proposals from developers for the South Street Market project in the next month.
The DRI plans also includes the creation of an arts district and public arts trail connecting various art-and-entertainment venues, beginning at the Shirt Factory on Lawrence Street and including the Hyde Collection, International Children's Museum, the Cool Insuring Arena, the Park Theater, the Charles R. Wood Theater and the LARAC Chapman Museum.
"LARAC will be spearheading this part of the project," said Bartholomew, adding that the effort will begin sometime in the spring. A coalition of arts organizations will also be working with the Washington County Local Development Corp. to seek additional funding sources and raise money.
A substantial portion of the DRI funding will go toward the construction of a parking structure, a downtown park and a green infrastructure project, Bartholomew said.
Throughout the city, signs, banners and informational kiosks will be installed to facilitate ease of movement and help visitors navigate around the downtown area. Improvements will also be made to downtown broadband access.
An additional $1.5 million will go to streetscape improvements, including installation of sidewalks, street lighting, underground placement of utilities on cross streets that connect with South Street, including Park, Elm and Exchange streets.
Total funding for these projects comes to $9.7 million.
Other projects recommended for funding consideration, but not included in the package due to costs, are seeking funding outside the DRI.
Those projects include connectivity to Pruyn Island, through a Department of State Waterfront Revitalization grant; and the creation of a joint Glens Falls/Queensbury economic opportunity zone. According to Bartholomew, a planning and feasibility grant application has been filed with the state for funding on behalf of the two municipalities.