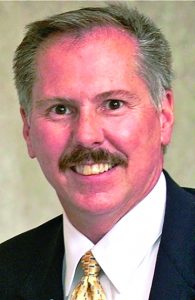 The board of trustees of the Queensbury Senior Center (QSC) has hired former Adirondack Regional Chamber of Commerce president and CEO Peter Aust as its interim executive director.
"With recent changes at QSC and our board's commitment to ensuring the growing organization continues to move positively forward meeting the needs of our membership, we were fortunate to have Peter agree to join us on an interim basis. We're confident that his knowledge and expertise in leading organizations to new heights will serve our QSC well over the next few months," said Rev. Monty Robinson, president of the board of trustees.
Aust has extensive experience and certifications in nonprofit leadership. He was ARCC president and CEO for over 16 years. He has also served on numerous local, state and national volunteer boards, including most recently the Tri-County United Way, the Warren/Washington/Saratoga Workforce Investment Board and the U.S. Chamber of Commerce Board of Regents.
"I'm very excited to be able to assist this dynamic and growing organization that has a long history of providing excellent services and programs to people 55 and older in our greater Queensbury region", said Aust. "As our population continues to increase, I hope to develop new ideas and strategies that will ensure the QSC is even more vital to our members and to make it the 'place to be' in the years ahead."
The Queensbury Senior Citizens, established in 1980, is a 501©3 nonprofit membership organization open to anyone 55 or older in the region.
Its purpose is to promote the concept of living and aging well by providing social, educational, recreational, health-related, travel and volunteer service opportunities. In partnership with the town of Queensbury, the center is located within the town office complex on Bay Road. Its website is www.seniorsonthego.org.