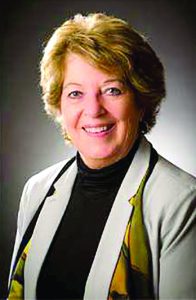 By Maureen Werther
As an organizational consultant, Leslie Kendall understands first hand the important role motivation plays in maximizing individual and team performance.
Owner of Kendall & Associates Organizational Development in Queensbury, her firm specializes in offering business solutions and support to accelerate an organization's growth and achieve success. A big part of achieving that growth and success is in understanding the ins and out of motivational development. What are the different motivators that influence people and what is the best way to implement them within a company's existing cultural framework?
"Any manager will tell you that retention rates and absenteeism, improved focus on tasks and enhanced productivity and quality are all results of having a highly motivated team working for you," said Kendall.
People who are properly motivated also tend to be more intellectually engaged and will produce worthwhile ideas that often translate to future success and growth, she said.
Kendall said that the Hilton Hotel group is a famous example of successful motivational strategies. Hilton encourages their people to make suggestions, offer ideas and come up with new ways to do things better—all of which the company rewards.
"Last, but not least," said Kendall, "motivating people and helping them grow personally and professionally is just the right thing to do."
Kendall said there are two different types of motivation to consider for an organization: intrinsic and extrinsic.
The intrinsic component is tough to get at and it is based on the value system embraced by a company and its leadership team.
"When I am working with a company, one of the first things I want to know is: What are the core values of the manager, the leader and the employees as a group? And, how do you bring them together in the interests of both the individual and the organization? That's a tough task."
One example of a core value is embracing a powerful work ethic. An employer may adhere to this value and give employees multiple tasks, which they complete successfully. However, some employees may not share the same core value. Many people are more interested in personal growth. Others may be content just to be liked by their peers. Still others may want to be in charge and to exert power over their environment.
Kendall suggests that the employer or manager should first conduct a value assessment. She said there are several standard questionnaires available to help develop profiles of employees and what motivates them. Detailed discussions with employees are the next important step and should include a motivator questionnaire to determine what motivational points are most important to each person.
"Everyone is different and is controlled by gender, age, marital status, status in the company," said Kendall. By using this profile during performance reviews, Kendal said the information is right up front and allows the manager or leader to use it to effectively communicate with employees.
She said many companies make the mistake of conducting a performance review once a year. "This could not be more wrong," she said, adding that many people—particularly millennials—need that ongoing support in the form of feedback.
She said regular performance discussions and progress checks serve the dual purpose of keeping a team aware of expectations, as well as finding ways to speak to the motivational goals that are important to each individual.
"You need to find out why a person comes to work every day," said Kendall.
She said leaders and managers must continually wear their organization's vision and mission "stapled to your forehead," so everyone knows what it is all the time.
"If you are a mid-size to large organization, it's not always easy to get to know all employees personally enough to motivate them," said Kendall. In these instances, she works with management and leadership to develop an organizational mindset of continuous improvement and excellence, always getting people to think in terms of cause and effect," she said.
Michael Cruz, owner and principal of Lighthouse Advisors LLC in Queensbury, works with CEOs to build their teams and figure out if they've got the right people.
By utilizing and executing trusted business strategies, he helps clients identify issues and examine the root causes of problems in the workplace, ranging from workflow to customer retention to growth.
A key role of Lighthouse Advisors is to help CEOs "build a framework" for evaluating the people on their team and the roles for which they will be best suited to achieve a company's mission and objectives.
Cruz stressed the importance of employing ongoing and effective motivational strategies to facilitate morale, productivity, growth and successfully achieving goals.
He said some bosses and managers just expect that employees will do their best and, for some of those managers and leaders, they are always disappointed because they do not see their team as putting forward the kind of effort that leadership does.
The big gap, said Cruz, between expectation and execution, is that people don't work toward goals if they don't understand them within the context of their own individual roles.
"How does their role and performance contribute to fulfilling big goals?" asked Cruz. "They need to understand their own relevance."
He said people need to feel appreciated.
"Some managers think they need to withhold praise and save it for big events. But small praise gets a lot better benefit," said Cruz.
Cruz said praise is the easiest, cheapest and most effective way to get people motivated.
He said even when feedback isn't all positive, the fact that it is given right away is important. "There are times when, if somebody does something wrong, it's better to provide instant feedback instead of delaying it."
By pointing out an error as soon as it occurs, the employee is given the immediate opportunity to correct the situation. When negative feedback is delayed, it frustrates the employee even more because the opportunity to rectify a problem has been lost.
Cruz and Kendall both agreed that, while people want to make a good living, money is not the sole driving force.
"We spend 40 or more of our waking hours commuting and working. So, while pay matters, its not the biggest thing. If someone is unhappy, giving them a big raise doesn't necessarily make them happier and lots of people will actually take a job for less money in exchange for benefits like work rules and flexibility," said Cruz.