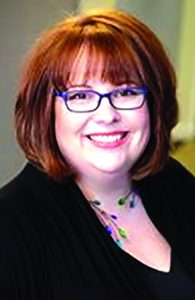 By Jennifer Farnsworth
For small business  owners, navigating through all of the IT options available can seem overwhelming.
Among them is the use of AI, or artificial intelligence, which can provide countless benefits to a business The trick is learning how pick and choose what best meets  company's needs.
According to Dawn LeGere, president and co-owner with her husband, Carl LeGere, of Empiretech, which has an office in Queensbury, more and more apps and platforms that harness the abilities of AI will, and have, become available for all types of small businesses to use.
LeGere said people are becoming accustomed to using apps like Siri and Alexa in their personal lives, becoming more comfortable in adopting and utilizing AI. She said businesses should continue to look for apps that track consumer behavior, "bots" that provide automatic online customer communication and feedback and AI systems that streamline and enhance HR procedures.
Many more types of AI enterprise level technologies will continue to become available and affordable for small businesses.
Greater access, or affordability, for small businesses to enterprise level Cloud technologies, like virtual servers and cloud-based phone systems "may seem like old news, but the affordability and access to these Cloud technologies for small businesses gets better and better. It will not only allow them to grow their workforce without investing in more physical space …  it will also allow them to be competitive on a larger scale, or be competitive at all," said LeGere.
Tim Montgomery, of TIMIT Solutions LLC in Glens Falls, said one key trend is low-code or no-code applications where a small business can leverage advances in IT with AI, automation, and more through a monthly subscription. He said this accelerates business process improvement while minimizing the costs of custom software development.
"You focus on how you want to run your business, and your business outcomes. The application components are configured so your business runs effectively and efficiently to deliver those outcomes. This trend toward low/no code uncuffs your business from traditional long-term IT implementations and gets you results quickly and affordably," said Montgomery.
LeGere said in the U.S., people become accustomed to the cybersecurity and data regulation of the health industry, through HIPAA laws,  but don't always see its application to other industries. She said two recent cybersecurity regulations that have been enacted  are predictive of a time when all small businesses will be mandated to prove they are following best practices in terms of cybersecurity. 
"It will not only have the ability to levy fines on non-compliant businesses, it affords consumers unprecedented ability to sue individual businesses for not protecting their data. It means that as they're adapting new technologies that provide them with better consumer, client and employee data, it's in their best interest to adopt strong cybersecurity policies, training and practices before regulations require them to do so, or they find they've been a victim of a breach," said LeGere.
At Adirondack Technical Solutions, marketing manager Jenna Hunsinger said an often overlooked component of cybersecurity is  employee training and the "human firewall".
"It's no surprise that data breaches are costly. Apart from the obvious monetary drain following a breach, there are more abstract ramifications that can be just as damaging. Once a customer confidence is shaken, it doesn't matter how long you've worked to establish a good name for yourself, it can be destroyed overnight," said Hunsinger.
Hunsinger said as important as an anti-virus application or a new firewall are, these products can be easily bypassed. They work to give small business employees the knowledge and training necessary to fend off cyber-attacks, which can be the difference between a company sailing or sinking.
"Even for employees with the best intentions, all it takes is one wrong click. This is where your 'human firewall' comes into play. At the end of the day, arming your employees with the proper tools to recognize and defend your organization against cyber threats will be your greatest asset," said Hunsinger.
LeGere said business owners seeking guidance in technology and security may not immediately recognize the benefits.
"The business owner needs to lead the charge and through swift, and sometimes drastic changes, to improve the security posture," said LeGere.