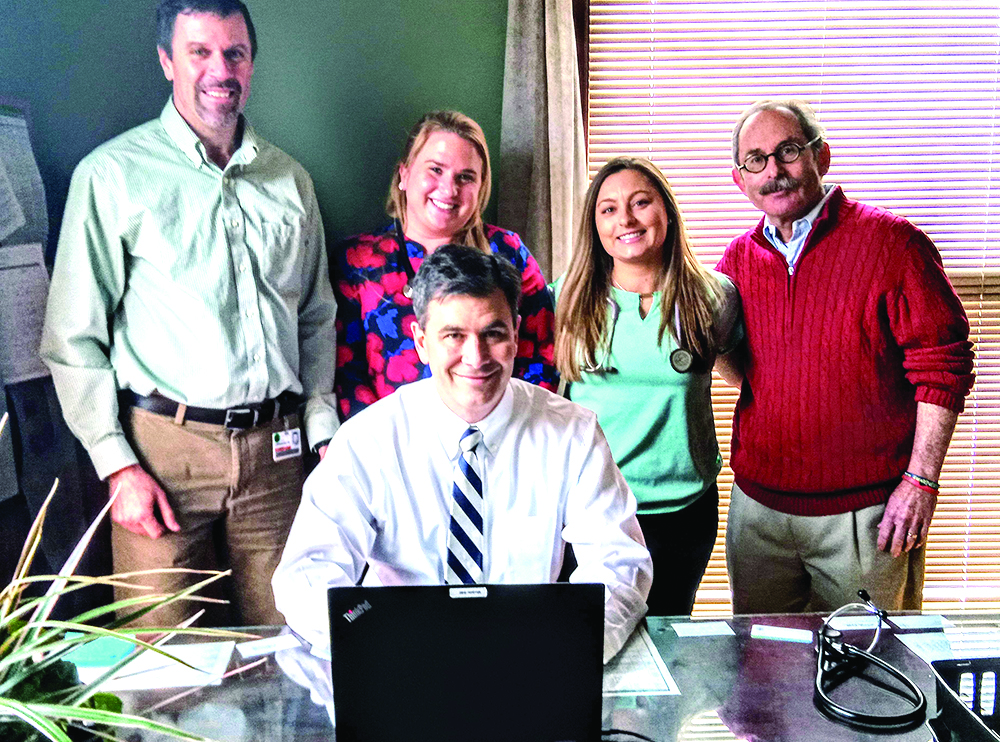 By Christine Graf
Founded in the late 1960s by Dr. William Tedesco, Irongate Family Practice in Glens Falls is one of the largest independent medical practices in the area. It is owned by Irongate's 11 board-certified family physicians.
"We all play a role in this," said Irongate president Dr. Robert Reeves. "We are all partners in the practice. It's a shared responsibility, and we all have different roles within the organization."
In addition to 11 physicians, Irongate has 18 nurse practitioners and physician assistants. They also employ 100 nurses and support staff members.
Reeves described Irongate as a "full-service family practice." They have an on-site lab and also provide on-site X-ray, mammogram, and bone density services for their patients.
Irongate has more than 23,000 active patients. They range in age from newborns to the elderly.
According to Reeves, the number of independent practices operating throughout the country is dwindling.
"I've been practicing medicine since 1996. When I started, 75 percent of all doctors were in the private sector, and 25 percent were employees," he said. "Now it's completely flipped around. And that's probably been in the past five years."
"The system has made it very difficult with regulations. There is a huge amount of documentation requirements that are bogging people down. To start your own practice now would be very difficult because of regulations by the state, regulations by insurance companies, regulations by the federal government."
Despite these challenges, the doctors at Irongate are committed to remaining independent. He said he and his partners have the personality traits that have made this possible.
"First of all, you have to have people with a strong work ethic. And you have to have people who are entrepreneurial," he said. "Those are the two biggest qualities."
Reeves said Irongate's early adaptation to the electronic medical records system has also contributed to their ability to remain independent. They were one of the first providers in the Capital Region to make the switch.
Because the doctors at Irongate see patients and manage the practice, Reeves said they are better able to identify and react to issues that impact the quality of care their patients receive.
"We work directly with patients and manage the facility," he said "We know what needs to be done. We can make adjustments quicker because we don't need to go through a large chain of bureaucracy in order to make changes that are in the best interest of patients. If you work in a big organization, you have to go through committee meetings, you have to go through administrators. It can take months and months or years to make effective changes that are in the best interest of patients where we can do it immediately."
Irongate began offering evening and weekend appointments for acute care patients some 10 years ago. The changes were made in order to better serve the needs of their patients.
"We see immediately where there are problems that need to be taken care of immediately for the best interest of our patients. Or where services need to be offered," he said. "We make adjustments and are proactive so that we can provide the services needed for the community. We are trying to make it easier for patients to be seen."
Because Irongate is independent, Reeves sad they are also able to offer more personalized services to their patients.
"We like people to have a feeling that they know the nurses and that they know the doctors," he said. "I think people have a certain level of comfort with continuity and seeing the same people over and over again and talking to the same voices on the phone."
All of these things contribute to what Reeves sees as a better patient experience.
"That's how we have separated ourselves from the bigger practices in order to stay relevant. We have to offer something that the bigger practices can't. And what we can offer is a small practice feel."
According to Reeves, it is not just the patients that benefit from Irongate's ability to remain an independent. The doctors and staff benefit as well.
"We get to set the tone for how the practice is run. I think there is value in that for everyone," he says. "It's a nice work environment."
Irongate Family Practice is located at 3 Irongate Center and can be reached at  518-793-4409 or by visiting irongatefamilypractice.com.