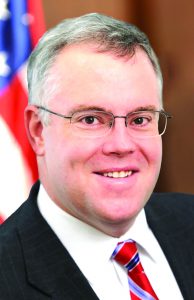 BY ASSEMBLYMAN DAN STEC
As a new legislative session kicks off, I am eager to get back to work on behalf of the people of the North Country. This year will be very challenging, but I remain optimistic that we can accomplish many great things.
I hope to continue to fight for our fair share of school aid funding to ensure our children have a bright future.
We need to continue to address the infrastructure issues we are facing in our Adirondack communities, including funding for advancements in our broadband infrastructure and cell service, money to combat environmental issues as well as addressing the growing EMS coverage issues.
I will also continue to advocate for funding to address the opioid crisis. Providing key services such as in-patient treatment, recovery and prevention education is crucial in fighting this statewide epidemic.
Education funding is always a top priority. We will continue to focus on increasing the Foundation Aid for our schools to ensure a quality education for all of our students.
Emergency services has become a huge financial burden for many of our counties and we are looking for ways to address the financing and operation of general ambulance services.
Broadband and cellular service remains a crucial priority in the Adirondacks. Although we have made great strides, much more is needed to ensure that all residents and businesses have reliable high-speed internet and cell service.
Economic development opportunities are key to growing our communities and creating new jobs.
New York remains one of the highest-taxed states in the country, and this is unacceptable.  The high tax, high regulation and hostile business climate is having a real impact. 
The evidence that this is a problem is clear, people are voting with their feet and exiting the state in record numbers. We need to continue to fight to reduce property taxes, cut wasteful spending and reduce red tape and regulations that are driving away our small businesses. As always, I am enthusiastic about getting back to work and I look forward to tackling these issues.