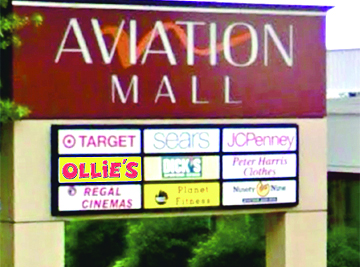 By Christine Graf
Ollie's Bargain Outlet will be opening a new retail store at Aviation Mall in late August or early September. The store will occupy 30,000 square feet of space in the former Bon-Ton location.
Ollie's will occupy just over one-third of the former Bon-Ton location. Bon-Ton closed its 80,000-square-foot store in April 2018. Aviation Mall also lost another large tenant at the end of 2018 when Sears closed the doors of its 95,000-squre-foot store.
According to Aviation Mall General Manager James Griffith, empty square footage leads to new opportunities for the mall.
"We have about 630,000 square feet of mall space, and half of that is dedicated to our big-box anchors. So, when Sears leaves and Bon Ton leaves, that's an opportunity to go out and get in front of those tenants that are growing and that are adding more locations. It gives us an opportunity to revamp the center, retool it, and find new uses that we know are successful in other markets and we know will be just as successful here."
Ollie's is one of America's largest retailers of closeout merchandise and excess inventory. The company was founded in 1983 in Harrisburg, Pa., and is currently valued at $5.32 billion. They have more than 300 locations throughout the United States. An Albany Crossgate Commons store opened in 2013.
Ollie's Bargain Outlet carries a wide variety of inventory including housewares, clothing, food, sporting goods, flooring, and electronics. All merchandise is backed by a 30-day money back guarantee.
Griffith said most big-box tenants have been downsizing.
"The large big box tenants out there aren't taking 80,000 square feet or 60,000 anymore. They are taking a smaller footprint, being more economical, and what we call 'right sizing' themselves to the market. They are finding a way to minimize their expenses so they can operate more efficiently. It's a whole evolution inside the mall. The big-box retailers are evolving how they are running their business and then the shopping centers are also changing how they are running their business."
As part of that evolution, Griffith said malls are relying more on restaurants and entertainment to attract customers to their centers.
"Entertainment has become big in the mall setting," he said. "We are getting people to come in and spend more time in the center, and the shopping center is becoming more of an experience driven base of business as opposed to just a retail driven."
Aviation Mall hopes to announce additional new tenants in the upcoming months. In order to attract tenants, Griffith said they rely in part on their parent company. Aviation Mall is one of 16 shopping centers owned by Pyramid Management Group.
"That's how we get to these national retailers. We have relationships with their national real estate representatives," he said. "We have 12 leasing reps out of our home office in Syracuse that are actively pursuing new opportunities with them."
According to Griffith, it is easier to negotiate a contract with a retailer that already has an existing contract at another Pyramid location. "Working with companies we have already worked with is easier. We can take contracts the way they are written and apply it to another property. It takes longer with tenants we have no relationship with."
"If you look at retail, it's a $110 billion industry in the U.S. Eighty percent is still done in person. Only 12 percent was done online in 2017. There's still a major amount of spend that happens face to face or in person," he said.