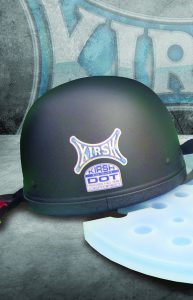 By Christine Graf
Lake George entrepreneur Jason Kirshon decided to develop a better motorcycle helmet after he attended Laconia Motorcycle Week in New Hampshire in 2008.
"What struck me was that out of 200,000 attending bikers, I only saw one wearing a helmet," said Kirshon. "And that guy was riding a moped."
New Hampshire is one of just three states with no motorcycle helmet laws. Nineteen states, including New York, have universal helmet laws. In the remaining states, helmets laws apply only to riders under the age of 18 or 21. The age varies by state.
Kirshon, an avid motorcyclist, understands why helmets are so unpopular. It comes down to comfort.
"There are two types of half-shell helmets," he said. "The first is DOT (Department of Transportation) approved.