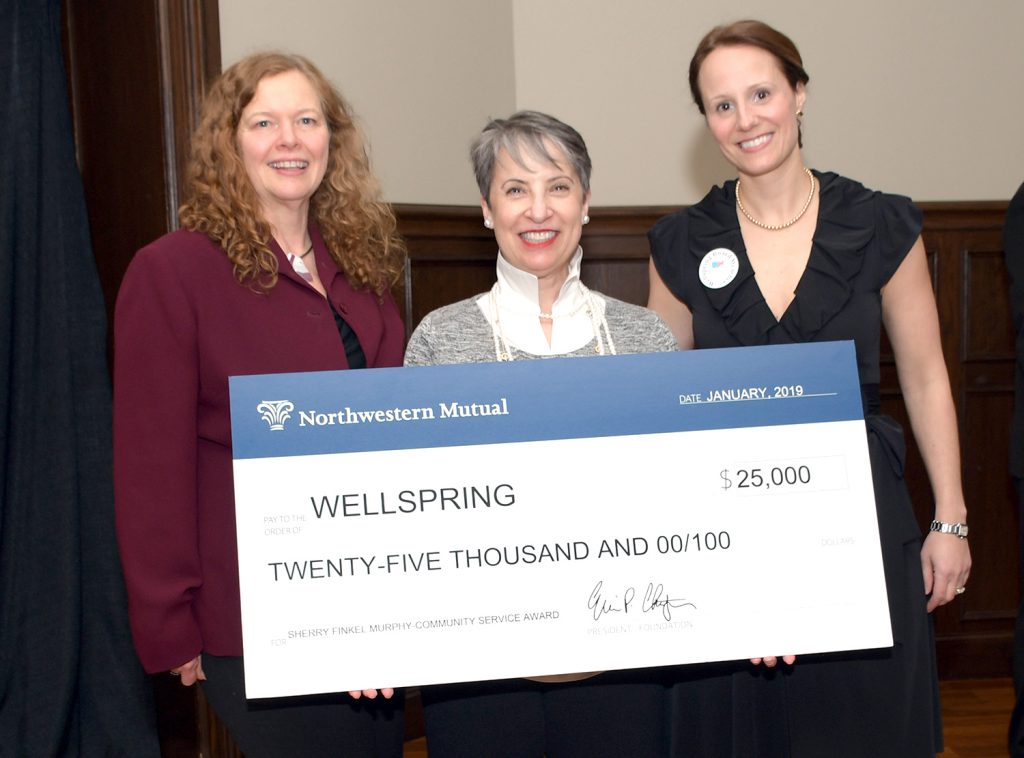 From connecting families with housing and food resources, to providing valuable mentorship opportunities to local youth, Northwestern Mutual financial advisors aim to lead impactful change in communities across the country.
Through its foundation, the company is recognizing these efforts through its 2019 Community Service Awards program by awarding nearly $300,000 in grants to nonprofits nationwide.
Each year, Northwestern Mutual selects 16 financial advisors nationwide to receive grants to benefit a nonprofit of their choice as part of the program. Local resident Sherry Finkel Murphy, a financial advisor at Northwestern Mutual – Albany, has been chosen as a 2019 Most Exceptional recipient of the award, receiving a $25,000 grant for Wellspring. Wellspring is dedicated to supporting survivors of domestic violence and sexual assault, and engaging the community to end relationship and sexual abuse.
Finkel Murphy has been a volunteer and board member with Wellspring since 2015, serving in fund development and community engagement capacities. A specific area she has focused on is how domestic abuse can manifest in financially controlling behaviors, which has led her to educate her office on behavior indicators and how to provide Wellspring information to clients when appropriate.
Finkel Murphy also speaks at networking events, conducts employer outreach to provide workplace resources and has supported numerous Wellspring fundraising events, including the creation of its signature event, Changemakers: Champions for Change.
"To become part of a community, you have to show that you are willing to do work to make the community stronger," said Finkel Murphy. "I've become part of the community through my support of Wellspring, and it has been a privilege to join the team in helping survivors start new lives."
The organization will use the grant to continue to add staff and services, which extend to helping survivors navigate the criminal and civil legal system and connecting them with resources and support services. Funding may also go toward supporting a youth program to offer counseling, education and support groups for those that have experienced domestic violence, dating violence or sexual assault.
"Every year I'm amazed by the enthusiasm our advisors exhibit for nonprofit support in their communities," said Eric Christophersen, president, Northwestern Mutual Foundation. "Giving back is such an integral piece of our company culture, and our Community Service Award winners truly embody this through the meaningful work they're accomplishing."
This year marks the 25th anniversary of the Community Service Awards program. Since the program's inception, the Foundation has donated nearly $6 million to nonprofits on behalf of program winners. The 2019 winners were announced at the company's regional meetings earlier this year, with grants presented to nonprofits at local events throughout the country.
The mission of the Northwestern Mutual Foundation is to improve the lives of children and families in need. The foundation has given more than $353 million since its inception in 1992 and is designed to create lasting impact in the communities where the company's employees and financial representatives live and work.