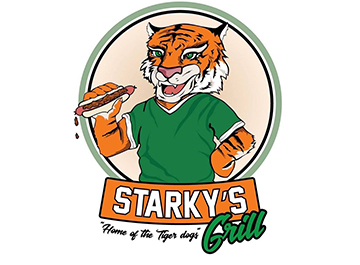 by Andrea Palmer
Cliff Stark and his son, Alex Stark, are opening a new restaurant in Hudson Falls.
Starky's Grill will be located at 3515 Burgoyne Ave., the location of the former Latham's Diner.
The father-son team purchased the diner in April. They will co-own and co-operate the eatery. Stark has four other children, whom he said will be helping out. Two are the head of Starky's Grill marketing.
"It's been a dream of mine for a long time to own a business," Stark said. "The opportunity opened up. I have a background in retail management, and Alex is a professional cook."
Stark has over 25 years of retail management experience with Kay Bee Toys, Blockbuster Video and GL&V. Alex Stark worked at House of Pizza in South Glens Falls for six years, and the Olive Garden in Queensbury for three years.
"I also have a long history of being a chef at home, and have some recipes I'm told are very, very good," he said.
Stark refers to the restaurant's genre as "diner plus", with popular diner favorites, plus additional items.
The menu will feature Tiger Dogs, a signature hot dog named for the Hudson Falls (high school) Tigers, with a Texas-style hot dog sauce. Starky's will specialize in chowders, and will present four different ones on the menu. Pizza and wings will be available, as well as standard breakfast, lunch and dinner fare.
For the first few months, Starky's Grill will keep the original Latham's Diner hours of 7 a.m. to 2 p.m., Tuesday through Sunday. Later this year, hours will be extended to 8 p.m. and include dinner.
Cliff Stark is originally from Hudson Falls, though he and his family have lived in South Glens Falls for 20 years. "I'm going back to my roots. It's great," Stark said. "We're going to be out there, and we're really happy to be part of this community."
Stark's mother, Eileen, was famous for her home-made meatballs. There will be a meatball grinder on the menu named after her.
"We want to be a family establishment, like it has been for years," said Stark. "We've done a lot of renovations, so it will have a different look. We've redone the floors, walls, the eating counter, everything. It will be cool to see some of the old regulars walk in and see the place."
The diner will open in late May. The restaurant is active on social media, with regular updates on Facebook, Instagram and Twitter using the handle @StarkysGrill.