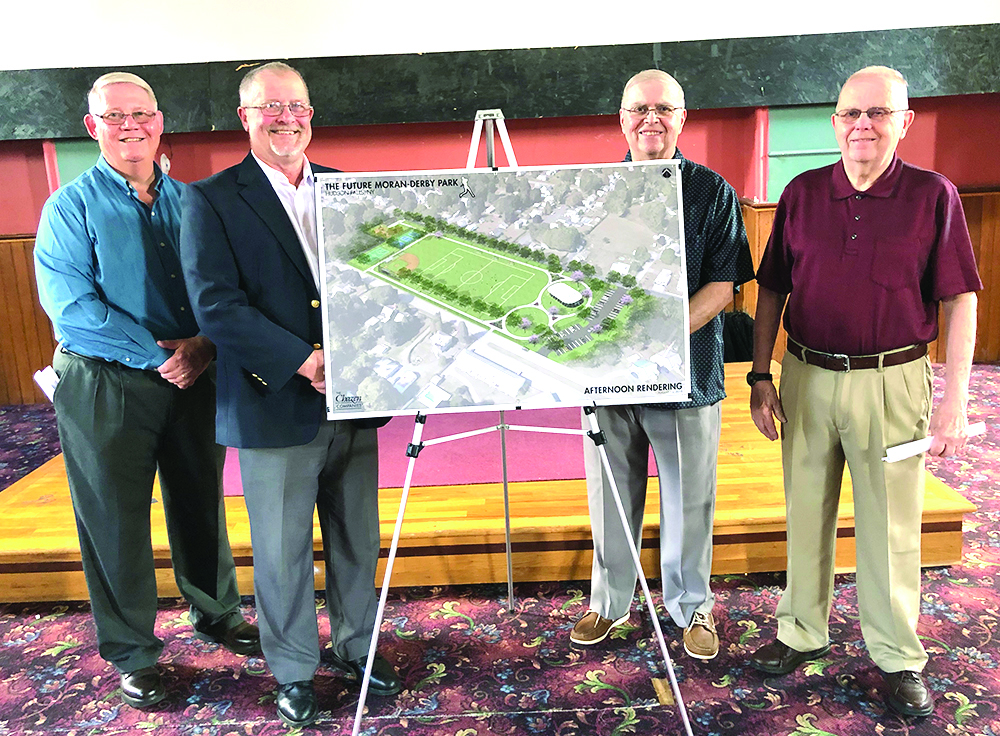 Hudson Falls is taking another major step in its ongoing community revitalization moving forward with plans for a $1.1 million refurbishment of Derby Park, the six-acre expanse in the southeast corner of the village a long-time center for recreational and social activities.
Two local businessmen, brothers Brien and Mike Moran, announced they will make a $500,000 donation to kick-off a community-wide capital campaign.
Once the transformation is complete, the revitalized park will be re-named Moran Derby Park.
"Time and again over the years, Brien and Mike Moran have stepped up to the plate to make Hudson Falls a better place to live. This time they've hit a grand slam," said Mayor John Barton. "Through their generosity, this park—which has seen some hard times in recent years—will once again become a tremendous recreational resource and great source of pride for our community."
"Hudson Falls is on the move, and this can be one of the biggest things to help continue the momentum," said Mike Moran who, along with his brother, took over ownership of their parents' then-20-year-old sporting goods store in downtown Hudson Falls in 1970 and grew it into Moran's World of Sporting Goods. "I truly believe that Derby Park can once again become a community gathering place. Not just an athletic complex, but a place that offers something for everyone."
The refurbishment plans for Moran Derby Park, scheduled to be completed in 2021, include:
• A new, regulation-size soccer field.
• A new softball field.
• A new basketball court.
• Three pickleball courts, to help meet the demand for this increasingly popular game.
• A quarter-mile, paved walking path.
• Two new event spaces for arts-and-crafts shows and other community festivals.
The village's plans also include new lighting; more attractive fencing along the entire perimeter of the park; a new irrigation system and landscaping; and a complete renovation of the restrooms and clubhouse building.
The village is working with The Chazen Companies engineering firm, which designed the project, to identify potential sources of grant funding to complement the Morans' gift, and will be launching a community capital campaign, as well.
Anyone interested in serving on a fundraising committee is asked to contact the Mayor's Office at Village Hall. Anyone wishing to contribute to the campaign can do so by sending a check payable to Derby Park Fund to Glens Falls National Bank, 3019 Route 4, Hudson Falls, NY 12839. An online fundraising site will be established in the near future.
Derby Park was donated to the Village in 1958 by Central School District No. 1 of the Towns of Kingsbury, Fort Edward, Fort Ann, Argyle, Moreau and Queensbury.
Recognizing the importance of revitalizing the park, the village formed a joint committee to work with The Chazen Companies in developing a plan
"All of a sudden, with the Morans' commitment, this project went from plans on paper to something that is truly going to happen," said Trustee Robert Cook.
"It often seems that communities with a high quality recreational park enjoy a higher quality of life in general. Moran-Derby Park can be a centerpiece," said Kingsbury Supervisor Dana Hogan. "I can't say enough about the Moran brothers' commitment to our community through the years. Their gift to the school district for the high school track helped provide us with one of the best athletic facilities in the region, and now they're helping give us another tremendous community asset."
While operating the sporting goods store, the brothers also branched out into a variety of other businesses. While they have sold or closed all of those businesses, the Morans continue to be active members of the Hudson Falls-Kingsbury business community through their Moran Enterprises property rental business.