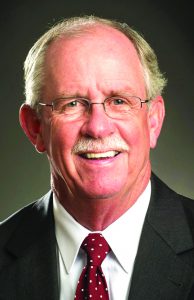 Daniel J. Burke, recently retired from NBT Bank where he served as president of the North County Region, will receive the annual Henry Crandall Award at the Crandall Public Library annual gala on Sept. 27 at the Queensbury Hotel, 88 Ridge Road, Glens Falls.
Each year, the award recognizes an individual who has demonstrated the values and legacy of Library founder Henry Crandall (1821-1913), including generosity, perseverance, loyalty, compassion, civic pride, and philanthropy.
Recipients have affected the improvement of the community and demonstrated a commitment to Crandall Public Library.
In addition to his role as president of the Adirondack Civic Center Coalition, Burke serves as president of the Glens Falls Business Improvement District and president of the Greater Glens Falls Amateur Athletic Championship Association.
He is a member of Plattsburgh State College Council and Chair of the Adirondack Health Institute. In 2012, he received the Adirondack Regional Chamber of Commerce J. Walter Juckett Award for outstanding community service.
"Dan has been a tremendous supporter of the library and has demonstrated a profound dedication to the betterment of our local community," said library director Kathy Naftaly.
"He has shown his commitment by donating his time and talent to multiple nonprofits over the years and actively participates in organizations such as Glens Falls Business Improvement District. We're honored to recognize Dan for his many significant contributions."
Past recipients of the award include the late Judge Richard J. Bartlett of Bartlett, Pontiff, Stewart & Rhodes law firm; Christopher Scoville, former owner of Scoville Jewelers and Glens Falls advocate; state Sen. Betty Little; retired Warren County Family Court Judge John Austin; Ed Moore,Sr., owner of French Mountain Commons, Log Jam Outlets, and the Queensbury Hotel; Sally and Tom Hoy, past Crandall Public Library Trustee and retired Arrow Financial Corp. and Glens Falls National Bank CEO; retired State Supreme Court Justice David Krogmann; Dr. Kathleen Braico, co-founder of Adirondack Pediatrics; and Mark Behan, president and founder of Behan Comminutions.
The 2019 Award will be presented to Burke during the Sept. 27 Crandall Public Library's Monopolooza! This event, also a major fundraiser for the library, and aims to raise more than $40,000 in support of the programs and services that promote literacy, provide educational opportunities, and expand cultural horizons for area residents.
With tax dollars covering 77 percent of the Library's $4.7 million annual budget, fundraising is crucial to bridge the budget gap to continue meeting all of the community's needs.
The event will start at 6 p.m. The $100 reservation fee includes hors d'oeuvres, music, a seated dinner, and a chance to win a prize during a table game based on the classic board game, Monopoly.
For more information, call 518-792-6508, ext. 284.