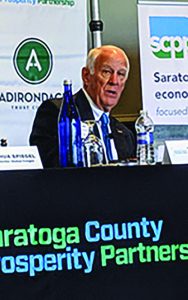 The Saratoga County Prosperity Partnership, a Saratoga County-based economic development organization, unveiled in July the inaugural Saratoga County Warehouse and Logistics Index, which it says portrays a thriving industry that employs nearly 2,000 people and generates an annual economic impact of $166 million in the county.
Officials said with nearly 100 transportation and warehousing operations, employment in Saratoga County rose from 1,470 jobs in 2001 to 1,772 in 2017, an increase of 21 percent. Meanwhile, the average annual wage grew from $36,221 in 2007 to $46,755 in 2018, a 29 percent increase that eclipses the Capital Region, New York state, and national averages.
Additionally, the Index illustrates a regional economic stimulus that is even greater, officials said. Working with the Saratoga, Warren, Washington Workforce Development Board, Warren County EDC and Washington County Economic Development, the Saratoga Partnership identified a $220 million annual economic impact and nearly 2,500 warehousing and logistics jobs across Saratoga, Warren and Washington counties.
"Saratoga County is home to a booming warehouse and logistics sector that provides increasing job opportunities and significant economic impact," said Marty Vanags, president of the Saratoga County Prosperity Partnership. "Working with our partners in Warren and Washington counties, we are committed to providing the assistance companies need to ensure this important regional industry continues on an upward trajectory."
"The warehouse and logistics industry is clearly a critical component of the economic well-being of Warren County and the surrounding region," said Ed Bartholomew, president and CEO of EDC Warren County. "We are delighted to join with our regional economic development and workforce partners in Washington and Saratoga counties in defining its impact, and more importantly, in working collaboratively to provide meaningful assistance that will support future opportunity and growth."
"It is encouraging to see positive momentum in the product distribution and logistics sector across Washington, Warren and Saratoga counties," said Laura Oswald, director of economic development, Washington County. "Collaborative regional partnerships are vital to supporting continued growth in this increasingly important industry, and we look forward to working together to address common issues and pursue strategic opportunities."
"The expansion of our regional warehousing and logistics industry is creating exciting economic and workforce development opportunities across Saratoga, Warren and Washington counties," said Douglas E. Leavens, executive director, Saratoga, Warren, Washington Workforce Development board. "It is important that workforce-oriented groups pull together to develop solutions to ensure we meet the needs of our business community and drive economic success in our region."
Additional information in the Saratoga County Warehouse and Logistics Index includes:
• New York ranks 4th nationwide in transportation and warehousing GDP at $32.2 billion, behind California ($71.6B), Texas ($61.6B), and Florida ($33.1B)
• The number of warehouse and logistics jobs in the Capital Region exceeds 12,000, with 1,772 in Saratoga County, 467 in Warren County, and 179 in Washington County
• Saratoga County's average annual wage increase since 2007 (29.1 percent) tops Albany-Schenectady-Troy (19.7 percent), New York (23.7 percent) and the U.S. (24.9 percent)
• The fastest-growing subsectors in Saratoga County are Warehousing and Storage, which has grown 225 percent since 2004, and Transit and Ground Transportation, which has increased by 137 percent during the same period
The index also included insight from industry stakeholders who completed a Pulse Survey regarding their experiences, expectations and challenges. Among the findings:
The biggest warehousing challenge, cited by 54 percent of respondents, is limited warehouse and storage capacity, followed by limited warehouse space for expansion, named by 31 percent
The biggest logistics/transportation challenge, identified by 68 percent of respondents, is cost control, followed by customer service/customer experience at 36 percent
Some 41 percent of respondents plan to increase employment over the next 12 months, though 53 percent cite inability to attract/retain a qualified workforce as a major issue. Another 60 percent of respondents said they would benefit from workforce training or recruitment assistance
The release of the index was followed by a presentation from national warehouse and logistics expert Tim Feemster of Foremost Quality Logistics, and a panel discussion featuring regional industry stakeholders, including Michael Kelly, business development manager at Logistics One, and Josh Spiegel, chief financial officer of Trans-Border Global Freight Systems.
The presenting sponsor of the event was Adirondack Trust Co.; Silver Sponsor was The Janack Group; Bronze Sponsors were C.T. Male Associates and SUNY Schenectady County Community College.