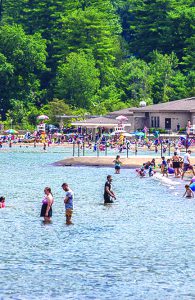 The FUND for Lake George has presented nearly $500,000 in grants to seven organizations and municipalities to assist in their work to keep the lake clear and clean.
The FUND has now invested more than $7 million in Lake-protection initiatives since 2013.
"The FUND for Lake George not only advocates for the protection of this priceless natural resource, we act, with direct investments to secure the Lake's signature water quality," said Executive Director Eric Siy. "We are grateful to our many donors who make these grants possible by trusting us to invest in initiatives that make a sustaining difference for the Lake and our Lake-based economy."
Officials said this year's grants included:
• Science of Solutions Grant: $285,000 to The Jefferson Project—a landmark collaboration between IBM, Rensselaer Polytechnic Institute and The FUND — that has made Lake George "the world's smartest lake" through the deployment of a highly advanced environmental monitoring system in the water and throughout the watershed.
• Invasive Species Grant: $90,000 to the Lake George Park Commission for aquatic invasive species prevention and milfoil removal initiatives.

• Water Quality & Clarity Grant: $30,000 to the Town of Lake George for priority septic system upgrades.
• Water Quality & Clarity Grant: $30,000 to the North Queensbury Wastewater Management District for priority septic system upgrades.
• Water Quality & Clarity Grant: $25,000 to the Town of Queensbury for establishment of the Rockhurst Wastewater Mangement District.
• Invasive Species Grant: $23,400 to the state Department of Environmental Conservation and state Department of Transportation for the new boat washing station at the Adirondacks Welcome Center near Northway Exit 18.
• Salt Reduction Grant: $2,000 to the Adirondack Watershed Institute of Paul Smith's College for a groundwater study of the impacts of winter road salt.
Also, the FUND presented the James D. Corbett Award to Dr. Shirley Ann Jackson, president of RPI, and Dr. John E. Kelly III, executive vice president of IBM, for their leadership in advancing The Jefferson Project at Lake George.
The Irving Langmuir Award was presented to the Town of Queensbury for its actions in protecting Lake George from stormwater runoff, which flushes contaminants and nutrients into the Lake, increasing the risk of harmful algal blooms.
"This year's award recipients exemplify a love of Lake George and a willingness to lead that is essential for the Lake's long-term protection," said Lake George Waterkeeper Chris Navitsky.
FUND Chairman Jeff Killeen added, "Drs. Kelly and Jackson, along with Queensbury Supervisor John Strough, have demonstrated the vision and leadership required to safeguard Lake George for generations to come."
For more information on The FUND for Lake George, or to make a donation for the long-term future of the Queen of American Lakes, please visit fundforlakegeorge.org.