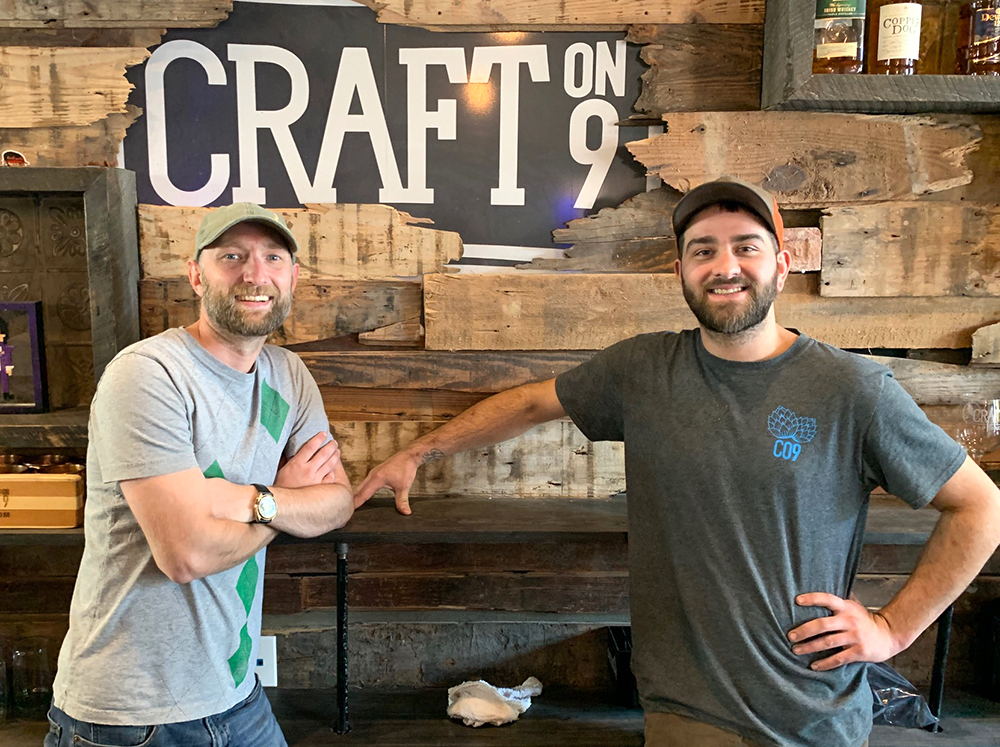 by Andrea Palmer
CRAFT on 9, a brew pub and restaurant has moved from South Glens Falls to 7 South St. in downtown Glens Falls and has expanded its business..
The building was purchased about a year or so ago by Chris Patten, and completely renovated. There are about 18 new apartments upstairs. The building is also home to Hometown Cigars & Lounge at 278 Glen St.
Rob Murphy, owner of CRAFT on 9, and Bill Dingman, general manager, met when they worked together for many years at Bistro Tallulah in Glens Falls.
"When we were designing the place, we wanted to separate sections for dining and for the bar. So we designed the whole front area with the purpose of being a bar and lounge," Murphy said. "We put the big windows in to keep the place open. Then we invested in a lot for the dining room in the back, apart from the bar area. We think it will be super beneficial to people who just want a drink. We'll have a smaller, condensed menu with less entrees and more bar fare," said Murphy.
He said the bar area will have a separate menu of about a dozen items,—high end bar fare in the gastropub style. The back dining room will have a more traditional menu.
The dining area has two levels, with an open design mezzanine floor.
"The mezzanine seating is totally unique to Downtown Glens Falls. Nobody else has that … I love what the Murphy's did with the woodworking. It brings it back to the roots of the city," said Dingman.
The back dining area features exposed trusses, treated to deaden sound. The original M.C. Scoville Jewelers sign from Scoville's sits above the kitchen. M.C. Scoville is Murphy's grandfather, and donated the sign to the restaurant. Repurposed tin roofing accents both areas.
"We have a completely renovated kitchen. Everything is brand new. We doubled the size of the kitchen from our old location," said Dingman.
"We're craft-beer-centric, obviously, and we will expand the wine and liquor list to match the demographic," said Dingman. "It won't be the same taps back-to-back, ever. We may revisit something, but it will be a constantly revolving door. Currently, there are about eight selections. We'll probably double that fairly soon."
Murphy, along with his parents Jeramie and Maria Murphy, did almost all of the remodeling work themselves. Most of the interior of the building had to be torn down, and a large hole in the ceiling repaired.
"I would work on the building before I went to work at the other restaurant every day, and they would come and do work after their day jobs every day. Then we'd work on our days off. Chris [Patten] did a lot of work here too," said Murphy.
CRAFT on 9 has 16 bar seats, with an additional 25-30 high-top bar seating and the separated lounge area with the fireplace and leather chairs.
"We put in a 120-inch projecting screen, with USB wall outlet access where we can plug in for Powerpoint. We have Bluetooth microphone access to the speakers. It's great for luncheons and presentations. We already booked a pharmaceutical luncheon on Columbus Day," said Murphy.
With the ability to close off the dining area, there is space for weddings, receptions and private parties, "and still have guests in the bar and lounge area," said Murphy.
Murphy had been considering a move for some time when the opportunity came up.
"We were shopping around for a new location. I always wanted to come back down to Glens Falls, especially after working at Tallulah for five years."
Around that time, Patten approached them about the space.
"We didn't have to meet in the middle on anything. I said, 'This is what I would need' and Chris said, 'Alright, that works'," said Murphy.
CRAFT on 9 kept most of their staff from their old location, expanding to add 6-7 additional employees.