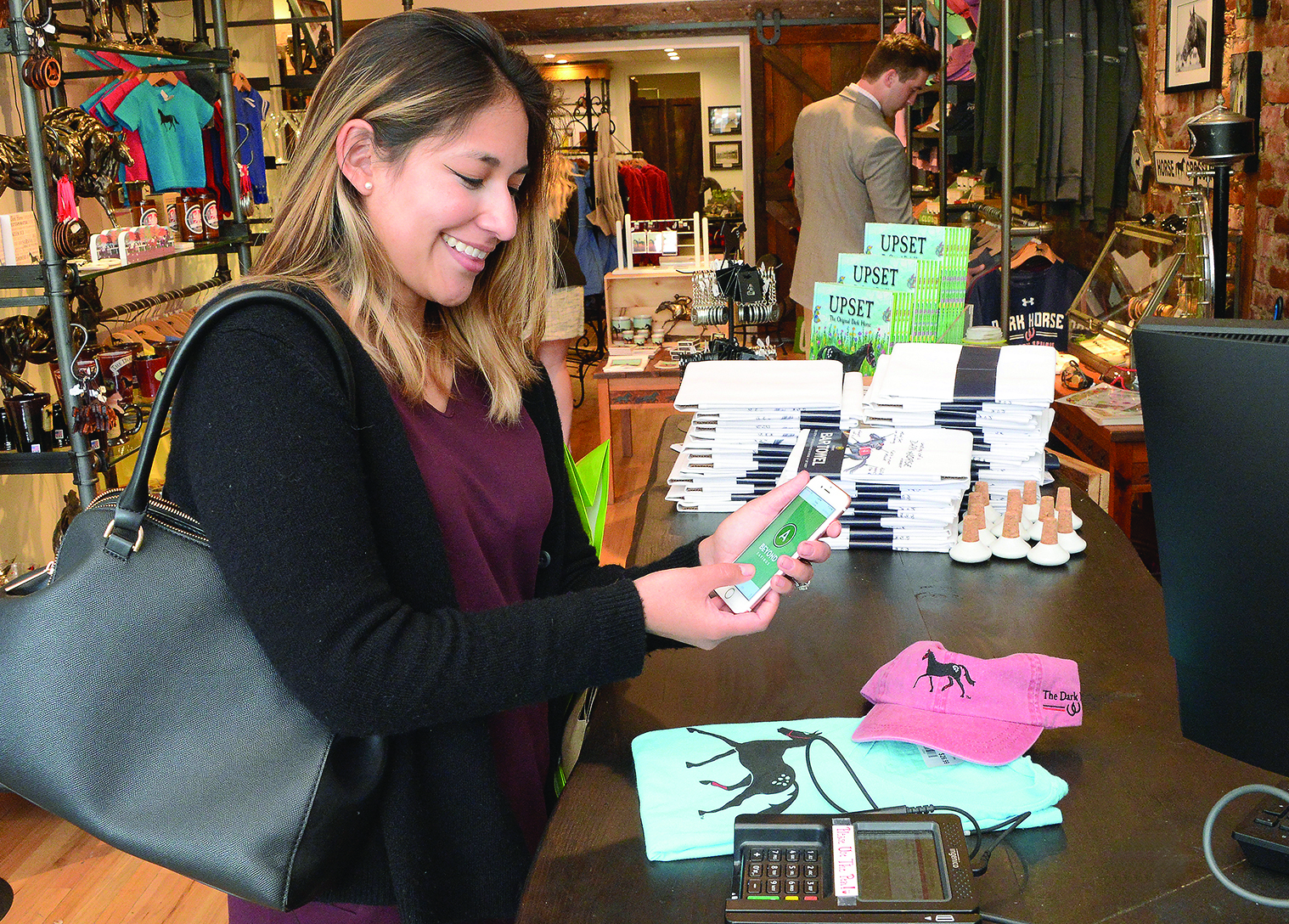 By Christine Graf
Adirondack Trust Co. has launched a free smartphone app that provides consumers with the opportunity to receive discounts and other perks at participating local businesses.
The app, called Beyond Savings, uses customized software developed by a third party provider.
According to Adirondack Trust Executive Vice President Charles Wait, it was Robert Ward who first came to him with the idea for the app. Ward is vice president-marketing manager at the bank.
"I knew we needed a rewards program, and Rob came to me with the idea," said Wait. "It was very easy to say 'yes' to. It uses technology to provide local shopping rewards. If I go to one of the vendors on our list—Forno Bistro for example—and I have the app on my phone, I can get a discount. So that benefits not only the user but also the merchants who are our customers. It's a nice partnership."
Although anyone can download the Beyond Savings app, participating vendors—called business partners—must be customers of Adirondack Trust. It costs nothing for them to participate in the program.
"Charlie and I have been talking for years about a rewards program that was hyper-local focused," said Ward. "There are lots of rewards programs out there, but we really wanted to focus on just our local market and our customers. We wanted something we could grow from the ground up."
There are currently more than 70 business partners located between Queensbury and Malta that are participating in the Beyond Savings app. Each business offers a customized discount or perk to app users.
"We try to make a judgement that the discount they provide is going to be something that would be attractive to people," said Wait. "You want to drive people into the app, so it has to be a meaningful discount. But beyond that, we leave it up to the merchants as to what they want to do."
Unlike many savings apps, Beyond Savings does more than just provide users with a long list of participating vendors. Instead, it also uses location-based technology called geofencing.
"There was nothing like this from an app perspective that was in the market," said Ward. "One of the big things that is so unique about this app is that it uses geofencing technology. What that means is that if you have that app on your smartphone and you have location services enabled, when you pass one of these merchants—either driving or walking—you will get what is called a perk alert."
These perk alerts encourage customers to make planned or unplanned visits to businesses participating in the Beyond Savings program. This encourages app users to shop local and to patronize Adirondack Trust's business partners.
"Our goal is to drive traffic into those merchants," said Ward.
According to Ward, the participating business partners are pleased with Beyond Savings. He said they like the simplicity of the program as well as the fact that it is offered to them at no cost.
"They love it. They have people coming in taking advantage of perks," he said. "It would be hard for a merchant to have this type of program individually—to have an app that would give an alert to people passing by their store. That's not to say that it can't be done, but here's a way that we were able to provide and use technology to benefit our customers."
More than 1,100 consumers are using the Beyond Savings app, according to the company. That number is expected grow as word of the program spreads. Adirondack Trust is promoting it through the use of billboards and digital and print ads. They also provide marketing materials to all participating business partners.
"We are very digitally focused, and we look forward to continuing to grow the program and finding other ways that we will be able to leverage it with this geofencing technology," said Ward.
For example, the bank used the Beyond Savings app to promote the 17 merchants that were participating in the Autumn of Giving campaign in October. The annual campaign benefits the Adirondack Trust Company Community Fund. Merchants were able to raise $74,000 for the campaign, and Adirondack Trust provided an additional $74,000 in matching funds.
For more information, visit www.adirondacktrust.com/beyondsavings.