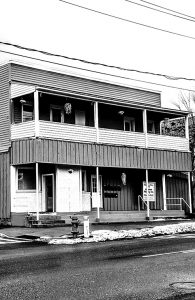 By Rachel Phillips
After over a year of vacancy, the building that was once Dango's Dugout in South Glens Falls is under new ownership.
The building at 43 Main St. was purchased by James Atherton of Atherton Painting and Renovations. He said he put in an offer in the spring, and it was finally accepted in September. Pending approval from the Village of South Glens Falls, he plans to gut the restaurant and convert the building into apartments.
In addition to the restaurant portion, the building contained nine apartments. Atherton has already gutted and renovated the units, including painting, and adding new carpeting and floors, he said. Each unit has one bedroom and one bathroom.
Atherton also intends to repaint the exterior and fix the sidewalks and blacktop.
Rather than keep the restaurant portion, Atherton intends to convert it to nine more apartment buildings, each with one bedroom and one bathroom, making 18 units in total.
"It seems like restaurants that are for lease around there aren't being leased," said Atherton. "The main reason I want to do this is because there aren't a lot of apartments in the village. I want to create a buzz."
The apartment pricing of the current and future units ranges from $700 to $800 per month. Atherton said he is providing a much-needed service to the area.
"A lot of people don't want a two- or three-bedroom apartment. They just want to go for a walk, walk the dogs. They don't want to deal with the headaches of owning a home."
Though he is hoping to get approval to continue his renovations, Atherton also mentioned that many developers have had difficulties getting approval to build apartments in the village of South Glens Falls, which he feels is keeping the area from growing.
"Glens Falls has tons of apartments with very little parking. We're trying to create some change. Property overlooking the river in South Glens Falls is something that Glens Falls doesn't have."
Atherton did not have a timetable for the completion of the additional apartments.