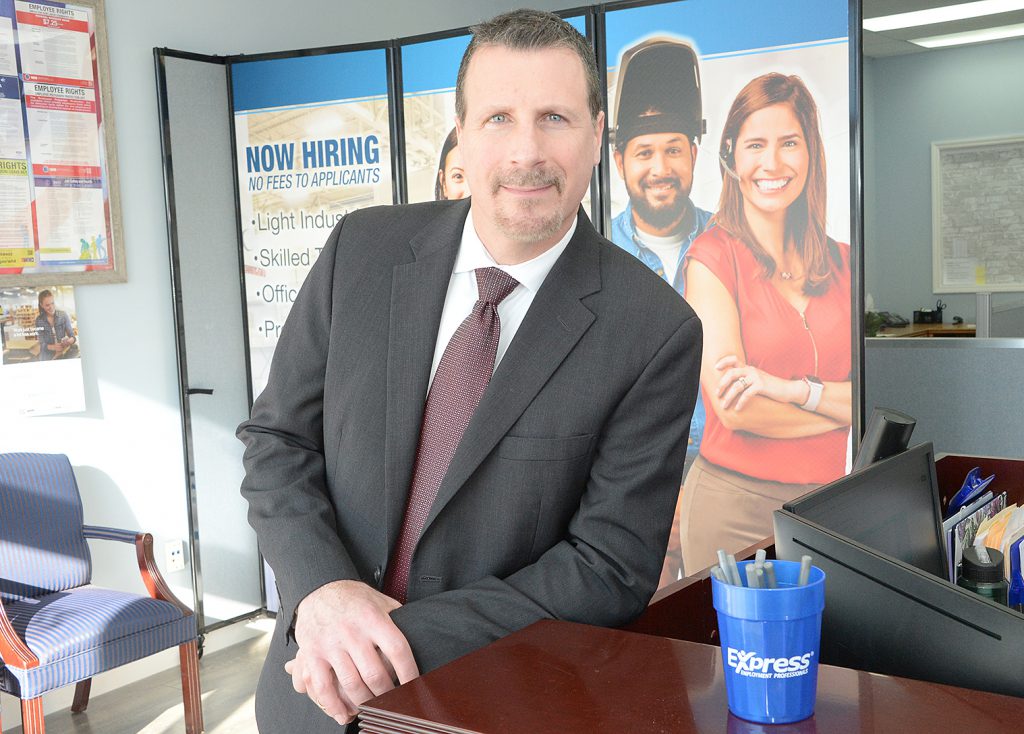 By Christine Graf
Express Employment Professionals, a locally owned small business, opened its second Capital Region location in December.
It is located in the T.J. Maxx plaza on Route 50 in Saratoga Springs. Owner Jordan Modiano opened his first Express Employment franchise in Albany in September 2015.
"To put it simply, we help people find jobs, and we help companies find employees," he said.
A Long Island native, Modiano moved to the area in 1999. He had a 20-year career in advertising and marketing before purchasing the franchise. Express Employment Professionals was founded in 1983 and has more than 780 franchise locations in the United States, Canada, and South Africa.
"I wanted to do something that made a difference in people's lives and the community that I live in," Modiano "That's been something I've wanted to do for a long time."
According to Modiano, his franchise currently specializes in providing employment services to several specific employment sectors.
"We do a lot of light industrial work—warehouse workers, general laborers, landscapers, maintenance technicians, manufacturing workers, drivers. We do a ton of that. And we do a lot of office services. Data entry clerks, call center people, phone operators, bookkeepers, even accountants. We do some skilled trades such as carpenters and welders," he said.
"This is kind of where we have found ourselves after four years. As we grow, we will expand into other verticals. But we can't be everything to everybody at any point in time."
Express Employment does not charge a fee to the job applicants (associates) that utilize their services. Instead, they receive compensation from the companies (clients) they serve. In 2019, the Albany franchise serviced 108 different clients and put 500 associates to work. These numbers are expected to increase dramatically with the opening of the Saratoga Springs office.
Express Employment interviews all applicants and checks their references. By doing this, they save their clients both time and money.
"Interviewing day in and day out and running ads and doing all of the things that we do to get a good person takes time, energy, and effort," he said. "That's what we do. That's our business. Our clients have their actual businesses to focus on."
Express Employment also offers what they call an evaluation hire. This allows an associate to work for a client on a trial basis. The evaluation hire time period typically lasts 90 days (720 hours).
"During that time, the associate evaluates the client and the client evaluates the associate," said Modiano. "At any point in time if it's not a fit, the client can let us know and we can make a change. If it is a fit, by the time the client wants to bring that associate on to their payroll as a core employee, they have gotten to know that associate and they are making a really smart hiring decision."
Modiano described the current job market as "very tight" due to the strong economy and low unemployment rates. He said his company has no difficulty finding work for qualified applicants who possess strong skill sets.
He acknowledged it has become increasingly difficult to find qualified applicants to fill trade positions. For example, he said there are shortages of CDL drivers, mechanics, carpenters, welders, plumbers, and HVAC technicians.
"We just can't find those people," he said. "We have more jobs than qualified applicants for these trades. It's been that way for years. It doesn't make a difference what the trade is."
With the opening of the Saratoga Springs office, Express Employment's staff has grown to 10 employees. He credits his company's success to the strong relationships they form with their clients.
"We aren't just their vendors. We are their partners," he said. "We look at our clients and their needs and become partners with them. And one of the things we excel at is communication. Our clients thrive on good communication. That doesn't mean it's always good news. The facts aren't always the best, but there are never any surprises."
For more information, visit www.expresspros.com/saratogany.