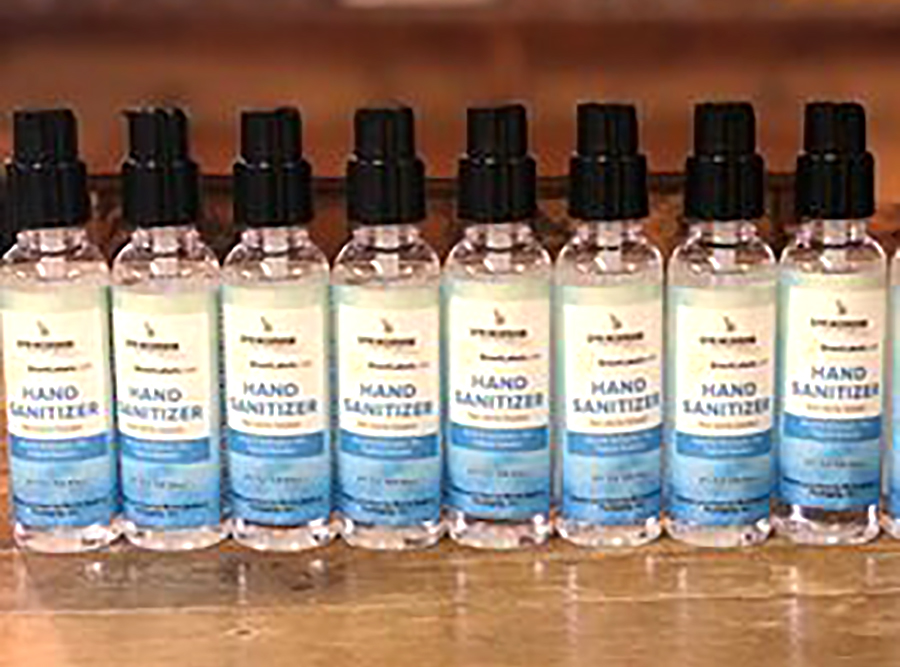 BY JENNIFER FARNSWORTH
With the coronavirus pandemic gripping the nation, using hand sanitizer is one of the strong recommendation of health agencies around the globe.
To help bolster supplies locally, some businesses have turned completely away from their normal mission and are making sanitizer.
When John Carr first opened up the Adirondack Pub and Brewery in Lake George, he never imagined that 20 years later he would find himself making hand sanitizer. He said his business has been making 1,000 gallons a week since the statewide shutdown came. His business isn't close to its usual revenue, Carr said, but his priority is doing what he can to help not only Lake George, but surrounding communities.
"Making the hand sanitizer is helping us to keep the lights on. It has allowed me to keep my employees working," said Carr.
Carr said his 10 employees work alternating shifts, making the sanitizer by hand. He said his employees are basically working in isolation, but are thankful for the opportunity to work with purpose. Carr also said that many people who have traveled to the brewery are discovering his business for the first time.
"Many people who have not been here before are able to check us out for the first time. They are getting their sanitizer while seeing who we are. They are even picking up some of our four gold medal winning whiskey products along with the hand sanitizer, sort of a small silver lining," said Carr.
ADK Pub and Brewery has both pick-up and drive through options, something Carr said they implemented with the senior citizen population in mind. The sanitizer has a limit of one per customer, and 375 ml bottles are three per customer. For online orders and delivery go to adkbrewery.com/store.
Since the state ordered the temporary closure of bars and restaurants last month, Matt Colucci, owner of Springbrook Hollow Farm Distillery in Queensbury, is among those responding to the need for sanitizer.
"We are more than happy to get to work. Essential businesses who have to stay open need it for their employees, so we are working hard to try and help make that happen," said Colucci. The distillery was about to lay staff off until the government asked distilleries to stay open to produce the desperately needed product.
Colucci said SheetLabels in Queensbury is donating the labels and Burch Bottle and Packaging in Waterford is providing the bottles.
SheetLabels Chief Executive Officer Adam Gray said they have been at work producing the labels needed by various local distilleries in order to prepare product for distribution.
"It has been a great opportunity for us to get to work and help the community, " said Gray.
At Lake George Distillery in Fort Ann, owner Robin McDougall has his company responding to the call for help.
"We decided we wanted to do something for our community in this time of need and we knew we had the ability to make the product. Once the federal government and the state government relaxed the rules that were required to make it and provided us with the World Health Organization's formula for the product, we decided to begin," said McDougall.
He said they outsourced the products needed to produce the sanitizer, glycerin and hydrogen peroxide, then started making 1,000 bottles to hand out to our community. They also received aid from SheetLabels.
At Upstate Distilling Co., in Saratoga Springs, owner Ryen VanHall said as a result of their recent move, their distillery was not operational at this point, however he decided to join the effort.
"I'll be going down to Yankee Distillers and assisting them with their production," said VanHall. The Clifton Park distiller is another involved in the hand sanitizer production effort.
Yankee Distillery in Clifton Park has also created a hand sanitizer. It is available for purchase in 64 oz. refill bottles. Yankee Distillers will also allow customers to fill any container they bring in for 50 cents per ounce from a sealed tank in the tasting room, according to said Matthew Jager, co-founder and distiller.
Purchases are limited to 64 oz. per household or one gallon per business for the first batch as Yankee Distillers continues to source and produce raw materials for the next batch.
If any business owners or institutional buyers need more for their organizations, they can e-mail us at info@yankeedistillers.com.
VanHall said Upstate Distilling is also selling off their on-hand inventory of whiskey and cocktails, donating 50 percent of the proceeds to local charities.