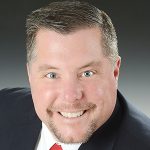 Glens Falls National Bank and Trust Co. announce the promotions of John Marcantonio to vice president and Whitney Burger to assistant vice president.
Burger is responsible for maintaining, growing and servicing the company's municipal relationships. She joined the bank in 2018 and will continue to work closely with branch staff and business partners to offer a variety of products and services to meet customer needs.
She attended Ithaca College, where she received her bachelor's degree in communications. In 2013, she was a recipient of the "20 under 40" Awards from The Post-Star.
Burger currently lives in South Glens Falls and is an active member in her community. She serves as treasurer of the Warren Washington County Homeless Youth Coalition and she is an ambassador for the Adirondack Regional Chamber of Commerce.
Marcantonio joined Glens Falls National in 2016 as an assistant vice president. He is responsible for establishing business relationships with new customers and expanding financial services offerings to current customers based on his local knowledge and business experience.
Active in the community, he serves on the board of the Alzheimer's Association of NENY and was named its Volunteer of the Year in 2019. He is also a coach for South Glens Falls Little League and Adirondack Youth Hockey Association.
Marcantonio holds a bachelor's degree in business public management from SUNY Utica and lives in South Glens Falls.