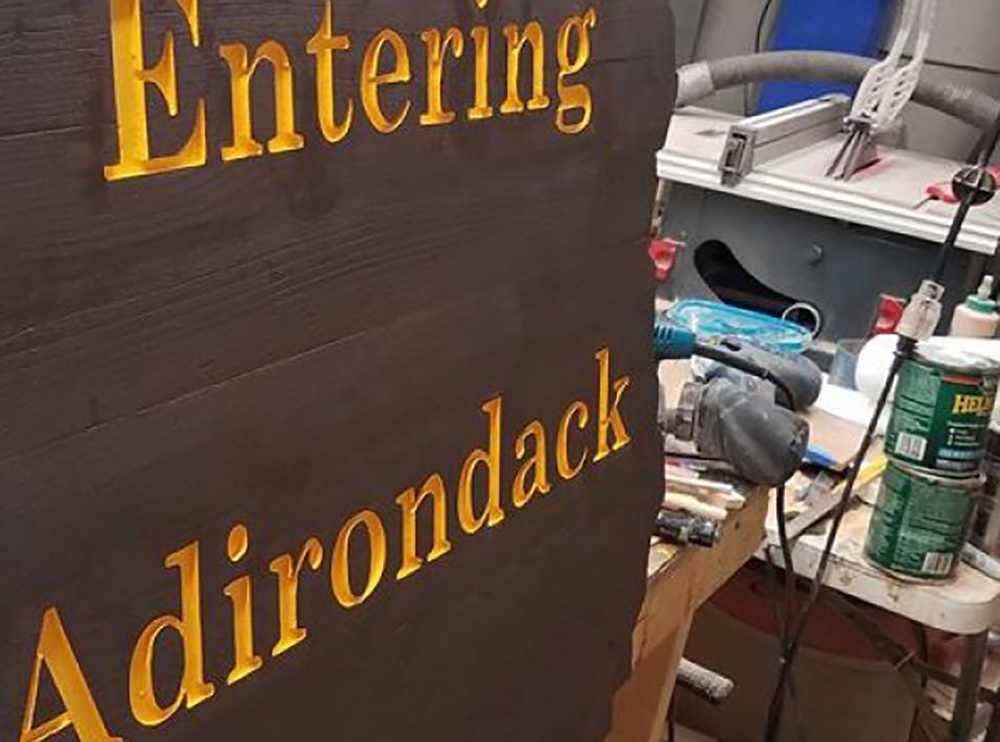 BY CHRISTINE GRAF
An area maker of custom wooden signs, whose work can be found in Warren County outdoor facilities and parks, recently secured a contract to make signs for Yellowstone National Park's historic Lake Lodge.
Malta resident Jim Thomson, owner of custom wooden sign company Adirondack Jim's, will make signs for the lodge, which was built in 1891 and is undergoing a $19 million makeover. According to Thomson, it was well-known Montana historical architect Ken Sievert who recommended he be chosen to make the interior and exterior signs for the lodge.
The signs will measure between 5-8 feet in length and will be framed in logs. Scott Phillips of Adirondack LogWorks in Schroon Lake will be making the frames.
For the past 30 years, Thomson has worked full-time as a social worker for New York state. He operates Adirondack Jim's out of his home woodshop and made his first carved wooden sign 12 years ago when decorating his yard for Halloween.
"When I started, I didn't know anything about how to carve signs. I spent the next two to three years reading books and watching videos," he said.
The quality of his signs improved dramatically over time and he was encouraged to sell them at craft shows. In 2012, Thomson invested in a website and learned to use social media.
"I have a background in psychology and research, so I know all about data and analyzing data," he said. "It (Facebook analytics) tells you everything you need to know about who your customer is."
Thomson said his customer base has evolved over time. When he started, the majority of his customers were local. Today, his signs can be found throughout the United States and as far away as London.
An "average" sign from Adirondack Jim's costs approximately $300. The average wait time is eight weeks. All signs are made from wood that won't rot or decay.
"The wood I use is very expensive," said Thomson. "I'm not interested in cutting corners."
Many of his customers have homes in the Adirondacks and are part of what he described as a high-end demographic. They are very concerned with tradition and preservation.
"My whole marketing approach was based on the fact that I share my passion, which is the Adirondacks," said Thomson. "I don't have a hard time advertising because people come to me."
His signs can be found throughout the region including at the Adirondack Welcome Center in Queensbury, Word of Life Camp in Schroon Lake, YMCA Outdoor Adventure Camp in Saratoga Springs and Whitney Industries in the Adirondacks.
Thomson said he looks forward to the day he retires from the state and can focus full-time on Adirondack Jim's.
"I've always enjoyed being a social worker, but when I'm gone I don't think anyone will be saying, 'Hey, do you remember Jim Thomson?' But my signs—because of the materials I use—will be around for generations and generations to come. It's my own little piece of history."