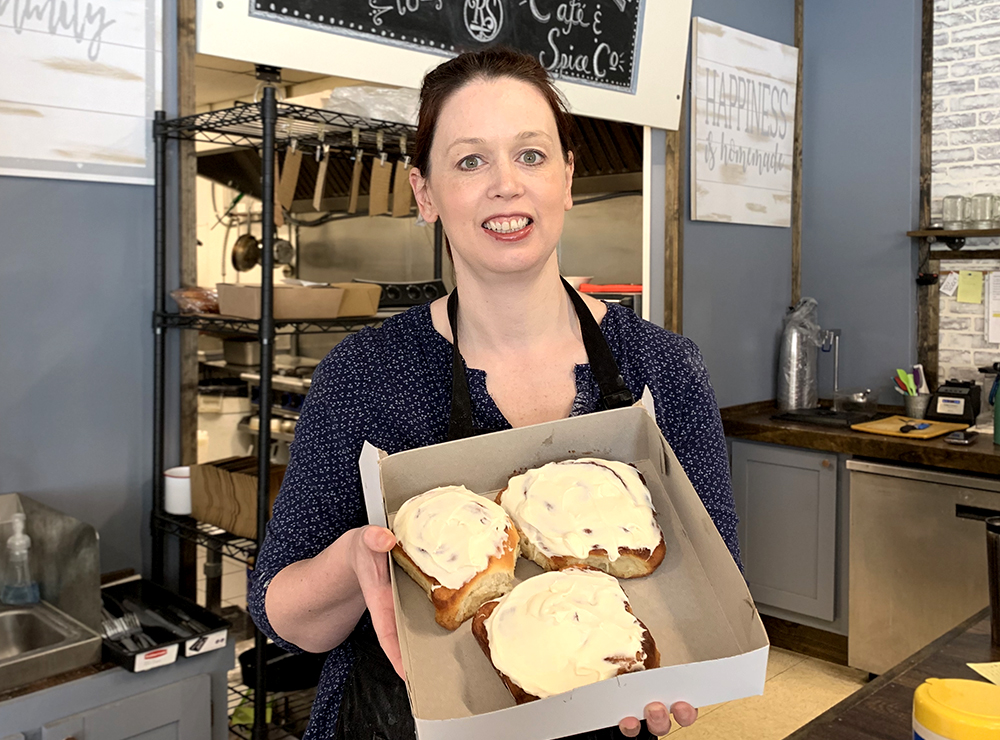 By Andrea Harwood Palmer
Rachel Dutra, owner of Rachel's Café and Spice Co., has shifted her business model to keep her business open during the COVID-19 crisis. Many other restaurants in the region have done the same.
The café continues to operate, offering full meals, soup, baked goods and an ala cart menu.
"We did a lot of brainstorming on how to stay relevant. Since people were at home, we focused on things people would be eating at home. I started with quarts of soup that were fresh, freezable and re-heatable. I had no idea what I was about to unleash on myself," she said.
"The response was phenomenal. People buy 12 or 14 quarts of soup. They keep some and gift some. We produce over 50 gallons of soup a week right now," said Dutra.
The cafe, at 240 Warren St., Glens Falls, also offers "take and bake" meals.
"It's something people can take and finish at home. The meal is prepared in the restaurant and is almost complete upon pickup," said Dutra.
Dutra offers extra-large cinnamon rolls that routinely sell out due to their popularity. She recommended pre-ordering to make sure enough are available.
"We never once considered closing. It didn't seem right. I felt that if I closed, I would only be contributing to the hysteria I was seeing. There has to be some kind of normalcy to life. My husband and I are running the restaurant, and my employees have been amazing," said Dutra.
"The community effort that circled around our area is amazing. We see people taking care of each other—taking care of their neighbors, their local businesses. It's because of our community that we're here. I'm so appreciative that everyone is willing to support their local businesses as much as they have. It was well worth the stress, the mystery and the unknown of the shutdown," said Dutra.
Radici Kitchen & Bar at 26 Ridge St. in Glens Falls first opened their doors earlier this year, just weeks before the shutdown. Brian Bowden, co-owner, is offering ala cart as well as family meals for 2, 4 and 6 people. Curbside pick up is available 4:30 – 6:30 with orders placed before 5:30.
"You gotta be resourceful and flexible right now. Since the beginning, we stayed open and kept a finger on the pulse of what was going, and what our guests wanted. Everyone's been receptive," said Bowden.
"I'd like to see things get going in the region again sooner rather than later, even if it's in a diminished capacity. We've got a long road ahead of us and the sooner we start the recovery process, the more comfortable people will feel over time," said Bowden.
The restaurant is currently hiring, as some of the furloughed employees did not feel comfortable returning to work.
"We're really grateful for the support we've received so far. We've currently been open for takeout longer than we were open for dine-in. We're being adaptive, we're open to change, we're anticipating our guests' needs and wants," said Bowden.
Adirondack Pub & Brewery, at 33 Canada St.,  Lake George, continues to operate the beverage side of the business and is now making hand and surface sanitizer, as other craft breweries have chosen to do in order to help during the COVID-19 pandemic and also slay afloat business-wise.
John Carr, owner of the Adirondack Pub & Brewery, also owns High Peaks Distillery the next block over and several other businesses and properties in Lake George and Glens Falls.
"I've got a lot of great, hard-working employees who wanted to get to work. They didn't want to sit around at home. My team is busy brewing beer, distilling whiskey and making hand sanitizer," said Carr.
The pub has a to-go tent open at High Peaks Distillery, 1 Canada St., Lake George, Friday through Sunday afternoons. Fresh beer, cider, craft soda and whiskey is available.
Adirondack Pub has partnered with the New York State Distillers Association on production and distribution of hand and surface sanitizer nationwide. It can be purchased by pre-order and can be picked up or delivered directly to customers' homes.
"We're preparing for when we're able to reopen. We have tons of fresh air and large outdoor seating areas. We can safely manage customers and staff, and keep everyone safe," said Carr.
"In our region, the politicians and the business owners have certainly been doing a great job working together for a common goal," said Carr.