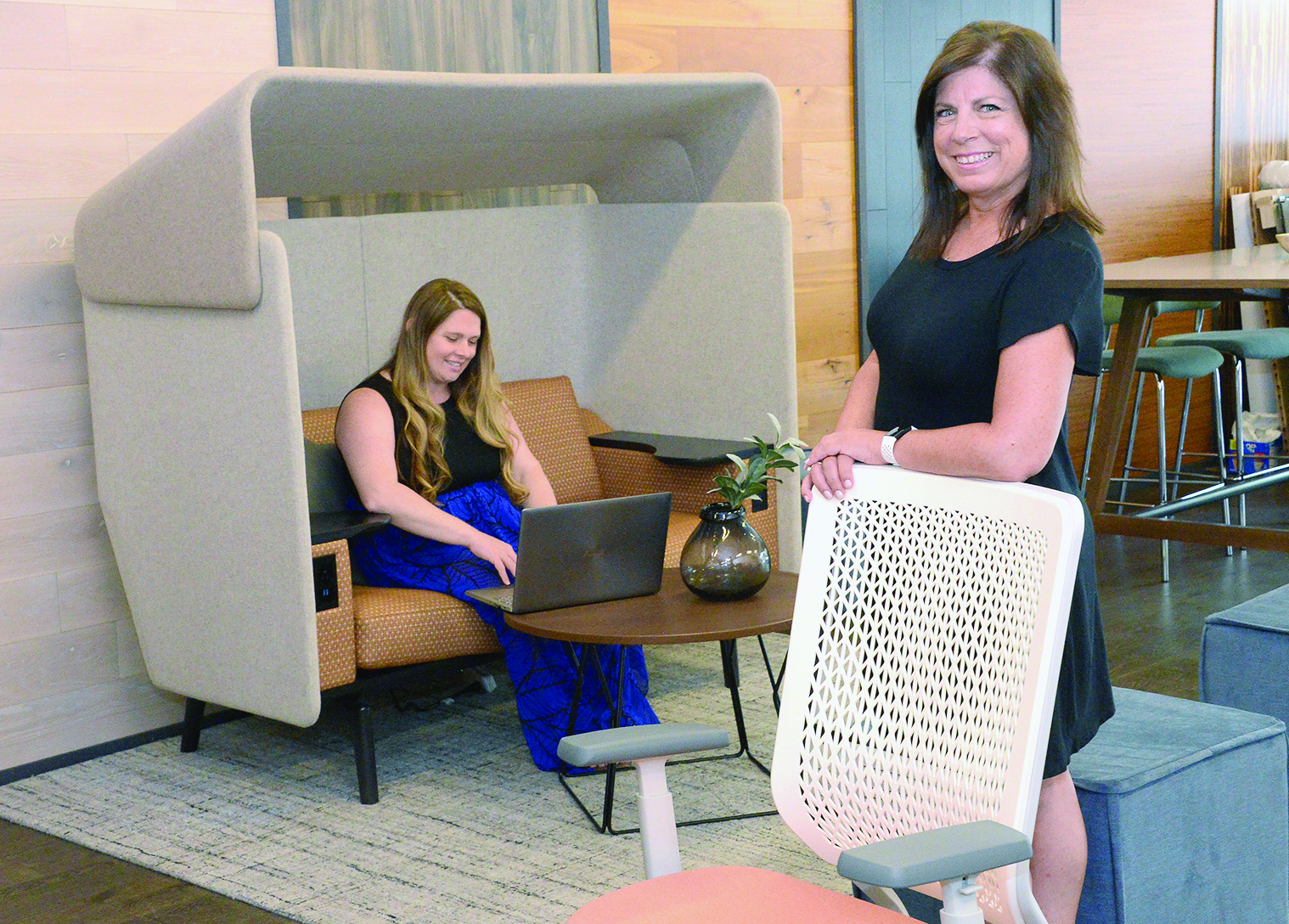 By Jill Nagy
As business owners prepare to re-open in a changed world, many are turning to office designers for guidance in meeting new requirements for minimizing the spread of COVID-19.
Dorothy Rogers-Bullis and her business drb Business Interiors in Saratoga Springs offers her own office as an example. Several employees are still working remotely. She encourages others to work in the office at alternate times. When clients arrive, they are asked to sign in and out, wear face masks and have their temperatures taken.
"People want to get back to work," she said. "Some people work really well at home" but, in general, "not a lot of good work gets done at home."
There are too many distractions. In addition, people working at home miss the connections, collaboration and creativity of a shared workplace.
Lisa Boyle of the Boyle Group in Ballston Spa advises clients on how to reorganize their work space.
For example, in an open office plan with everybody at eye level, desk and tables have to be moved apart, she said. Often, barriers are needed. The result is a reduced capacity.
"It is still an evolving situation," Boyle said. "There still isn't much known about coronavirus and the indoor environment."
Rogers-Bullis agreed. Policies and rules change every day. "You have to be able to pivot," she said and space is often an issue. "We are in the business of making people productive in their spaces. We help them figure out how to work safely,."
Glass or plexiglass partitions are part of many reconfigurations, Rogers-Bullis said, but her company's emphasis is on logistics more than re-furnishing. We are "very creative" in finding solutions, she said. "It doesn't mean that you have to buy all new furniture."
While Boyle also encourages clients to reorganize their space using existing products, her company is a manufacturer's representative for OFS, a healthcare furniture manufacturer, and its subsidiary, Health Care Furniture.
She recommends looking for furniture with hard surfaces that can be cleaned easily or fabric that is easy to clean and can tolerate bleach. Her emphasis, she said, is on "physical changes in an office that can be made without spending lots of money."
Boyle has sample floor plans on her website, along with advice on reconfiguring a workplace for social distancing and privacy. She also sells a variety of screens, both fixed and mobile, and of various heights.
Other aspects of the new office, such as air treatment systems, are not part of these designers' toolkits.
Rogers-Bullis has been in business since 2009. Her showroom is on Regent Street, right off Union Avenue, in the former Skidmore College Spa Little Theater. She can be reached at 518-306-5233. She and some staff are in the office everyday while six other employees divide their time between home and office.
The Boyle Group has been in business for nine years. They cover a territory that includes all of New York state except for New York City and Long Island. They have a showroom in Ballston Spa. They also have kept open through the pandemic and the two other employees have also worked throughout. They can be reached at 518 288-3174.