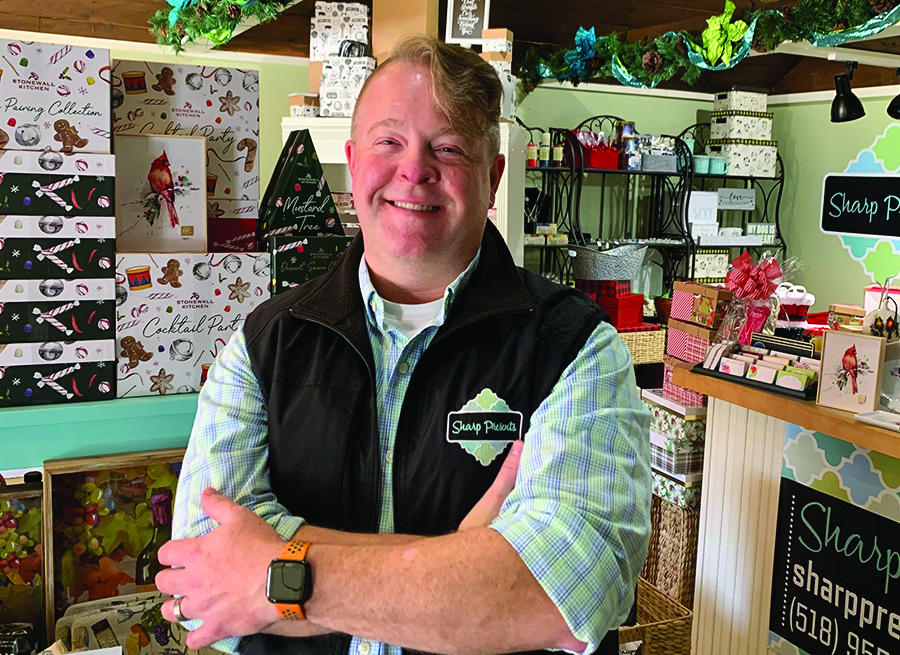 Andrea Harwood Palmer
The gift-giving season has arrived and area businesses are gearing up.
James Joseph, owner of Sharp Presents in Queensbury, has seen an increased interest in shipped and hand-delivered gifts during the pandemic.
"It can be as non-touch process as people want it to be. You don't have to come into the shop to order something. I text my clients photos to validate, change or approve the design. I send email invoices. The product can be hand-delivered or shipped. It's always how I've done a lot of business, and it has certainly increased this year," said Joseph.
The company specializes in curated gift boxes and crates.
Jeff Strief, owner of Rude Betty in Glens Falls and Happy Jack in Bolton Landing, said about product trends, "We're seeing that candy, candles, small consumables and clever household items are doing well. Small gifts are continuing to do well. They're a cheap and cheerful way to improve someone's mood or disposition."
Rude Betty is a two room business, with the front room being new items and the back room being a dedicated to sale products.
Angel Isaac, owner of Pretty Hot Mess in South Glens Falls, has seen a strong interest in the store's proprietary organic CBD product line.
"A lot of people buy CBD as a gift, because people love to use it," said Isaac.
"Popular gifts we sell are novelty items that are fun and snarky, like funny pictures and mugs—unique gifts. Those are very popular right now. Also Warmies, which are little stuffed animals you can heat up in the microwave. They're great for pain, very soothing for babies, kids and adults. Sometimes people will put one of my pain creams on, then put the Warmie on top of it … Warmies are always a huge seller this time of year," he said.
"Honestly, we haven't seen a dip in sales compared to our fourth quarter last year.
"For corporate gifting, it almost always ends up being locally made items. I also have a nice selection of Harry & David premium food and gift items, and I just got a really nice collection of Stonewall Kitchen specialty foods, a gourmet line out of Maine," said Joseph.
Joseph opened the storefront several years ago.
"This is a 2.0 version of a company I ran in Michigan for a number of years. When we moved here, I did gift baskets off and on for people when they asked."
In the summer of 2016, he contracted with the Gideon Putnam hotel in Saratoga Springs for VIP gifting for the summer racetrack season. At the end of that 2016 season, he made the move to open Sharp Presents LLC.
"About a year later, I opened my stone-and-mortar location. First it was part time, then full time, then retail space," said Joseph.
When he opened the retail space, sales increased.
"I was able to change the concept of my business quite a bit," he said. "When I was a studio company, people didn't get to see my merchandise. When I was a stone-and-mortar shop, I structured my business more as a gift shop so people could come in and browse."
"We do a lot of pre-made designs on our website, and that has picked up significantly as we head into the holidays. We've seen a tremendous jump in our website sales. We do made-to-order and specialty orders. We do imprinted ribbon concepts, which companies really like," said Joseph.
He said business was slow when COVID-19 struck, but recently business has been increasing.
"My advice to everyone would be this: Due to issues with FedEx, UPS and the USPS, with increased shipping charges and slower delivery time, people should be considering ordering and purchasing sooner so there's no pinch with shipping. The sooner the better this season. There are already shipping issues throughout the U.S.,"Joseph said.
Sharp Presents is located at 1088 Route 9 in Queensbury, and is open Monday-Saturday 10 a.m. to 2 p.m.
"We have a lot of cool sale stuff and gifts in our back room. We've brought everything down from Happy Jack [in Bolton Landing]. We expanded the sale room, with a lot of great deals on toys and gifts," said Strief.
"Our numbers are consistent with what they've been for the past two years. That's a good sign. The fact that we have the same number of people coming in as usual, is a good thing," he said.
Rudy Betty is located at 18 Exchange St. in Glens Falls, directly across from its previous location of Rock Hill Bakehouse. Rude Betty is open Monday through Wednesday, 10 a.m. to 5 p.m.; Thursday through Saturday, 10 a.m. to 7 p.m. and Sunday 11 a.m. to 4 p.m.
Isaac at Pretty Hot Mess said stainless steel beverage holders for beer and wine are popular items and frequently sell out.
"We have a ton of gift and holiday items that we put out just this week," said Isaac. "I kind of sell everything."
The Pretty Hot Mess is located at 139 Saratoga Ave, in South Glens Falls.