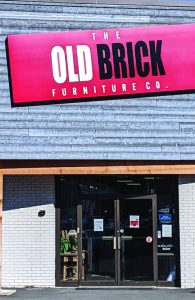 By Andrea Harwood Palmer
Bennington Furniture & Mattress, which has a Queensbury location, has acquired Old Brick Furniture + Mattress Co., expanding its footprint in the Capital Region.
Michael Fiacco, owner and president of Bennington Furniture, purchased the property from former owner Henry Turk. Fiacco and Turk had known each other for many years, and had talked casually of a buyout when Turk was ready to retire, he said. Turk reached out to Fiacco in January of 2019.
"I'm from the Capital Region. My businesses are in Vermont, Western Mass and Queensbury. I always wanted to get down to the Capital Region as well," sad Fiacco.
"We're super excited for this opportunity," said Fiacco. "Old Brick Furniture has a great name in the Capital Region. Bennington Furniture has a great name in Vermont. We are like-minded businesses. Bringing them together is exciting."
Bennington Furniture was started by Fiacco's mother. The flagship store is located in Bennington. The Old Brick Furniture Co. began in 1960s as a furniture wholesaler under the name C. and D. Distributors.
Bennington Furniture is transitioning its branding to Old Brick Furniture + Mattress Co., a process that is complete for all stores except  Manchester and Vermont. The branding transition for those stores will be complete by the end of March, Fiacco said.
"Our buying power and footprint will both increase," said Fiacco. "Our marketing penetration for the Albany DMA. The advertising and marketing dollars are better spent when you put us all together, and that was a primary reason for the acquisition."
He said the acquisition will empower the store to remain competitive with online furniture vendors. Merging the two businesses gave the company more buying power.
Future plans include more expansion. A central distribution center will be needed at some point, said Fiacco.
The Old Brick Furniture stores in Queensbury, Albany and Rutland are all hiring for various positions. He said the Queensbury store, 63 Quaker Road, was already busy before the merger and is seeing increased foot traffic lately.
At all stores combined  the company employs over 125 people.
In addition to brick-and-mortar showrooms, the store's inventory can be found and purchased online. Brands carried include King Hickory, Wesley Hall, Bradington Young, Bassett Furniture, Flexsteel, Palettes by Winesburg, Tempurpedic and Stearns & Foster.
The local phone number is 518-636-3434. The website is www.oldbrickfurniture.com.