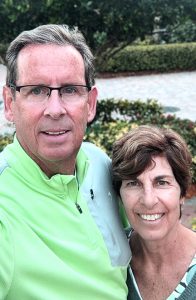 Paula and Michael Freed of Grand Rapids, Mich., have committed to donating major funds toward the creation of the Granville Community Foundation fund (GCF) at the Glens Falls Foundation.
The Freeds, both of whom are originally from Granville, made a $250,000 donation in December to create the foundation. They have announced a challenge for 2021, whereby they will match 50 percent of every donation made during the year, up to an additional $250,000.   
"We know it will be a stretch, but we hope to reach a goal of $1 million for the GCF by the end of 2021. While we're making sure that anyone who wants to donate can make a donation, we're particularly hopeful that the GCF will provide a vehicle for those of us who have a special connection to Granville, but no longer live there, to help in some way. We may not be able to donate our time or talent, but we can at least donate money," said Michael Freed. 
The goal of the foundation is to evaluate local needs and opportunities and to fund projects that address broad areas of community development, education, art and culture, environment, health or social needs. 
The GCF, which will be a donor-advised sub fund of the Glens Falls Foundation, will have an advisory board of seven members, whose primary responsibilities will be to raise money  and to recommend grants to the Glens Falls for approval. 
The oversight of the GCF assets will be the responsibility of the Glens Falls Foundation Distribution Committee as part of the "affiliate" relationship established between the GCF and the Glens Falls Foundation. 
"Given that the Glens Falls Foundation already serves Warren, Washington and northern Saratoga counties, Paula and I felt it best to explore sharing regional resources rather than start another not-for-profit community foundation from scratch," Freed said. "The Glens Falls Foundation was the logical fit and, given that I knew Mike Niles from our years working in healthcare, we reached out to him to see if the Glens Falls Foundation was willing to work with us to create this affiliate"."
"It's critical that the money we raise be in addition to the money already being raised there by other nonprofits and community organizations, not in place of it."
Donna Perkett, chair of the Glens Falls Foundation Distribution Committee, said the group is "pleased to be able to provide the organizational infrastructure to accommodate this admirable initiative by Mr. and Mrs. Freed. We appreciate their confidence in the Glens Falls Foundation and we look forward to our fiduciary responsibility in serving the residents of the greater Granville area, the future beneficiaries of the Granville Community Foundation fund."
For more information, visit glensfallsfoundation.org/granville.