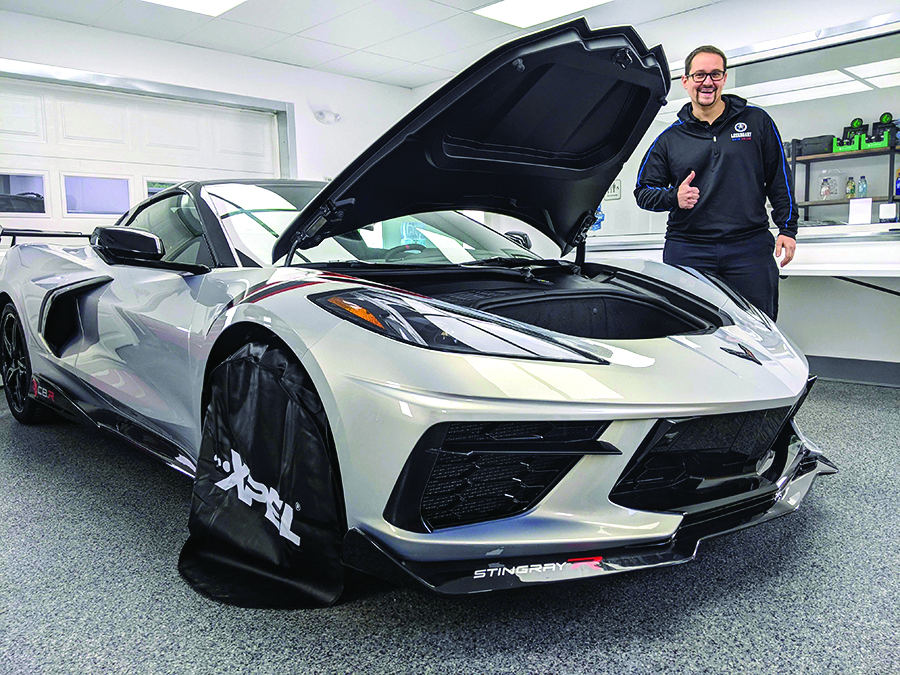 By Jill NAgy
A hobby became a full-time business three years ago when Brad LaCross gave up a career in IT to devote himself to automobile detailing.
His Legendary Auto Salon in Queensbury specializes in protective finishes for automobiles.
LaCross recently signed a 10-year lease on a facility at 75 Carey Road, near Exit 18 of the Northway. It is a brand new facility. In fact,  "there are a few things to fix" before his certificate of occupancy becomes permanent.
The shop has 3,800 square feet of work space and includes a custom-built clean room and a training facility. The first training session was in October and attracted auto detailers from across the country. He hopes to help build credibility for a new industry, working with colleagues to develop standards and a certification process.
As an information technology person, LaCross worked as a systems administrator and operated data centers. His experience in running a business carried over into the current enterprise. It also helps in his effort to develop standard operating procedures for everything.
At the same time, he was preparing cars for auto shows and doing other detailing work, using space in the back of an automobile service shop.
He opened his own place in Burnt Hills and then moved to a shop on Route 9 in Queensbury before moving to his present location.
LaCross prides himself on his attention to detail, "an almost OCD level of perfection-seeking," in his work, he said.
The company does three kinds of re-finishing: ceramic coating, urethane film, and paint correcting. A project typically takes from two or three days to a week to complete and can cost anywhere from $500 to $10,000 or more.
The ceramic coating replaces wax and sealant and gives an automobile body a high level of gloss.
"It looks like a really high-end wax and will stay that way," he said.
The paint protection is a clear urethane coating.  The surface is "self healing," able to repair surface scratches and nicks. And it can be pealed off. A paint correction treatment consists of fixing uneven spots and blemishes in the car's factory finish.
Currently, there are two people working at Legendary Auto Salon but LaCross is looking to hire additional people.
He is looking for people with some experience in auto body work. He will train the appropriate people, including sending them to the manufacturer's training facility in San Antonio, Texas, where he trained.
Training can be a slow process. For example, LaCross estimated that it takes 300 to 500 car treatments to learn to properly apply the urethane film treatment. "You learn by doing it over and over again."
He said that he often uses rental cars to train new craftsmen. The rental companies are happy to do it. "We return the car in much better condition."
Typically, the shop can handle three or four cars at a time and, according to LaCross, they are booking now for June.
In the future, LaCross may expand into the unit next door to his and may refinish boats and small industrial equipment as well as cars. Recently, he did work on a small excavator and was able to "feel out what would be needed in the way of new techniques and equipment."
More information about the business is available at www.legendaryautosalon.com. He can be reached  at 518 932-5867.