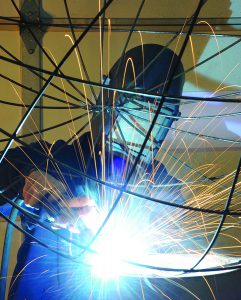 By Christine Graf
The nationwide skilled trade labor shortage has reached critical levels as baby boomers continue to retire. Baby boomers make up the majority of the skilled trade workforce, and there aren't enough qualified younger workers to take their places, say people in the industry.
An estimated 31 million skilled trade workers retired in 2020, and many of those jobs remain unfilled. Sixty-two percent of companies report that they struggle to fill skilled trade labor positions.
"Ten thousand baby boomers are retiring every day. We have to bring in the next generation to fill those jobs," said Dr. Jonathan Ashdown, dean of science, technology, engineering, and math at Hudson Valley Community College. "We're doing everything we can at Hudson Valley to meet the demands for today in terms of helping to solve the skills gap issue."
Local union representatives for International Brotherhood of Electrical Workers (IBEW) Local 236 in Albany and UA Plumbers and Steamfitters Local 773 in Glens Falls report that their apprentice programs are in high demand. Both unions have long waiting lists for their multiple-year programs.
According to Mike Martell, assistant business manager at IBEW Local 236, they typically have hundreds of applicants for the approximately 50 spots that are available in their apprenticeship program each year. Union apprenticeships are typically in high demand because union jobs offer above average pay and benefit packages. Local 236 apprentices earn a starting wage of more than $17 an hour and receive an excellent benefit package.
HVCC plans to build a new $65 million facility for skilled trades education. The proposed 130,000-square-foot Applied Technology Education Center (ATEC) will allow the college to expand its training of the skilled technical workforce. Although the college continues to expand capacity, long waiting lists remain for many of their most popular programs.
"There is a tremendous skills gap in the skilled trade field—whether you are talking about plumbers and pipefitters, welder, electricians, advanced manufacture technicians, and even mechatronics technicians," said Ashdown. "We literally cannot graduate enough students every year. We are maxed to capacity with the number of people we can graduate, and our job placement rates are 97 percent."
It is only because some students choose to pursue other career paths or continue their education at a four-year college that the skilled trade job placement rate at HVCC is not 100 percent. In fact, many students are offered jobs after finishing the first year of their two-year skilled trade program.
"Everyone who wants a job gets one," said Ashdown. "Students have multiple companies giving them offers. We've had companies getting into bidding wars over starting salaries. We had several companies bidding over a student in advanced manufacturing, and the wage got bid from the low twenties per hour to above thirty with full benefits and a company vehicle. It's a real life example of supply and demand playing out, and you see wages creeping up and kind of going through the roof."
According to Ashdown, HVCC officials have also met with local trade union leaders to discuss collaboration opportunities for their students. Unions have expressed interest in taking on HVCC students as apprentices after graduation.
"They have said that our students come out so much better prepared than someone off the street," he said. "We are all working very synergistically to try to mitigate this shortage and this skills gap issue."
"We negotiate our wages and recognize that if you want skilled manpower, you need to come to the table and pay those guys what that skilled labor is worth. You get what you pay for, and a lot of business owners have forgotten that. If they aren't willing to pay what the men and women who are offering the skilled labor are worth, they are unable to get the manpower they need to get the job done," said Martell at Local 236.
The apprenticeship program at UA Plumbers & Steamfitters Local 773 in Queensbury also has a waiting list, but according to business manager Mike Jarvis, the union is experiencing a critical shortage of experienced tradespeople.
"We typically don't see a shortage of people who want to join, but what we are seeing right now is that we have a lot of work in the North Country—Lake Placid and the Plattsburgh area. Apprentices do help, but that's not what we need right now. We need help from people who are well-versed and experienced. In all reality, we are just barely able to man our work."
Jarvis is working to promote trades to a new generation of students, and he and his training director recently met with students at Hudson Falls BOCES. Beginning in the fall, Local 773 will be partnering with BOCES to offer an internship program to a select group of students. The students will travel to the union's state of the art training facility where they will complete an on-site internship program.
"For many years, there wasn't enough emphasis put on the trades in high school. Guidance counselors didn't view it as a path for their students. College was pushed more than the trades," said Jarvis. "I want to get these kids out of high school. I want the kid that didn't wait for their father to get home to put the chain back on their bike. I want the kid that can pick up a wrench and say, 'I can fix that.'"
Ashdown believes that trades need to be promoted to students while they are still in elementary school. It is his opinion that this could help to reduce the undeserved negative stigma that is often associated with various skilled trade professions.
"We have found that in order to really solve this issue, you need to get the students interested in the skilled trades as early as third grade or even as early as kindergarten. It's of utmost importance because it's not only a cultural issue, it's about restoring the respect for trades," he said. "These are very respected and in-demand fields where you can make $80 to $100 plus thousand a year."
HVCC is partnering with Queststar III BOCES to give local high school students in grades 9-12 the opportunity to earn up to 26 college credits. Participating schools include Troy High School, and East Greenbush High School.
"They will be doing their main high school curriculum on the Hudson Valley campus, but it will be a more seamless integration into some of the skilled trades programs such as welding and others. It's going to be a full four years of high school here," he said. "This isn't the first time we've done this. In TechSmart in Malta, we've partnered with Ballston Spa. It's very exciting."
Jarvis finds it encouraging that local school districts have started to reach out to Local 773 to inquire about opportunities for their students.
"For the last 20 years, we have been swimming against the current. We are no longer swimming against the current–we're going with the current," he said. "Queensbury has reached out to me. Hudson Falls has reached out to me. They are asking 'What can we do? How can we partner up?' And Adirondack Community College (SUNY Adirondack) has recognized our program which I think speaks volumes for our program.
Graduates of the apprenticeship programs at both Local 773 and Local 236 receive 30 credits that can be can be applied towards a SUNY Adirondack Journeyworker: Technical Trades Management associate's degree. The degree program also includes a wide variety of courses including public speaking, business law, accounting, and computer science. 
When Jarvis meets with applicants who are taking the aptitude test for Local 773's apprenticeship program, he said he always tells them the same thing.
"I tell them I have enough pipefitters. I'm looking for leaders," he said. "When you join our union, the sky's the limit."