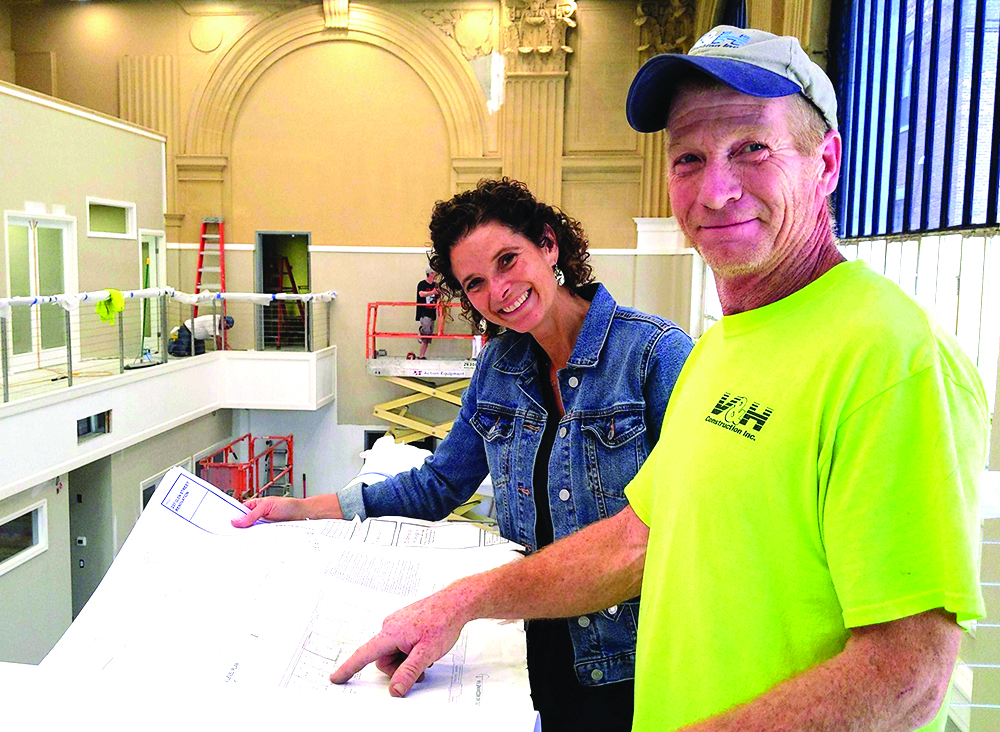 by Andrea Harwood Palmer
Christy Alexander has moved WorkSmart to 237 Glen St. in Downtown Glens Falls.
Alexander is the sole owner of WorkSmart, and the anchor tenant for the historic 1914 building.
The structure most recently housed the downtown branch of TD Bank.
WorkSmart was previously housed in the Homestead Funding building on Warren Street near the traffic circle. When Alexander was initially searching for a new space for WorkSmart, 237 Glen St was for sale. She said she immediately saw the possibilities. With the vast amount of space, she felt the need to further validate the business idea before risking the investment.
"After testing the market and gaining traction, I began to dream bigger," said Alexander. "We began to explore the opportunity to bring new life to the old lobby."
V&H Construction was the general contractor on the renovations.
Alexander said planning the new space was a collaborative effort, with WorkSmart members giving feedback and insight throughout the process.
Alexander said the new space will impact existing and prospective clients tremendously.
"Offering fully furnished private offices with a premier business address will elevate our clients' businesses," she said. "Frictionless access to client meeting spaces makes it easy to project a professional image to clients. Creative spaces make these kinds of resources accessible with minimal investment.
"The iconic home of the First National Bank of Glens Falls provides greater visibility and enhanced level of professionalism for WorkSmart members. Bringing together individuals with diverse skill sets and interests increases the accessibility of professional services and advice, while creating a community of success-minded professionals" she said.
COVID impacted renovations but it was an eye-opening experience, said Alexander.
"COVID shook up the traditional workplace model. And we all learned that working from home isn't everything it's cracked up to be. It's hard to be productive and to balance work with family life. We've realized how much we benefit from other professionals to inspire us, brainstorm with us and celebrate professional milestones with us," she said.
Alexander considers WorkSmart to be a cornerstone of Glens Falls revitalization, playing a key role in attracting professionals to the area.
"In The Adirondack Relocation Assessment Survey, Camoin 310 determined that remote working professionals specifically desire coworking as part of their ideal community, and prospective customers tell us the same thing. We see an opportunity here for Glens Falls to retain our local talent and to attract additional talented professionals to the region," she said.
"By providing a center for business activity in the heart of Glens Falls for collaboration, innovation and the development of strong personal relationships, WorkSmart helps kickstart long-term, sustainable success for businesses and create employment opportunities in the region. In this way, the company hopes to contribute to the revitalization of Glens Falls."
"I love to hear stories from members about discovering new opportunities when they go out for lunch, coffee or shopping. Personally, I appreciate being able to get out for a quick walk or have lunch in City Park. Bumping into friends or making a new connection is the highlight of my day," she said.
Alexander continues to build her vision for the business and the Glens Falls region.
"There is a shift taking place and as the world's relationship with work continues to evolve, WorkSmart plans a second phase of expansion to meet the needs of our members and the greater Glens Falls region. I'm excited about all the opportunities," she said.
WorkSmart can be reached at 518-480-7849. The website is www.WorkSmartGF.com and email is info@worksmartgf.com.