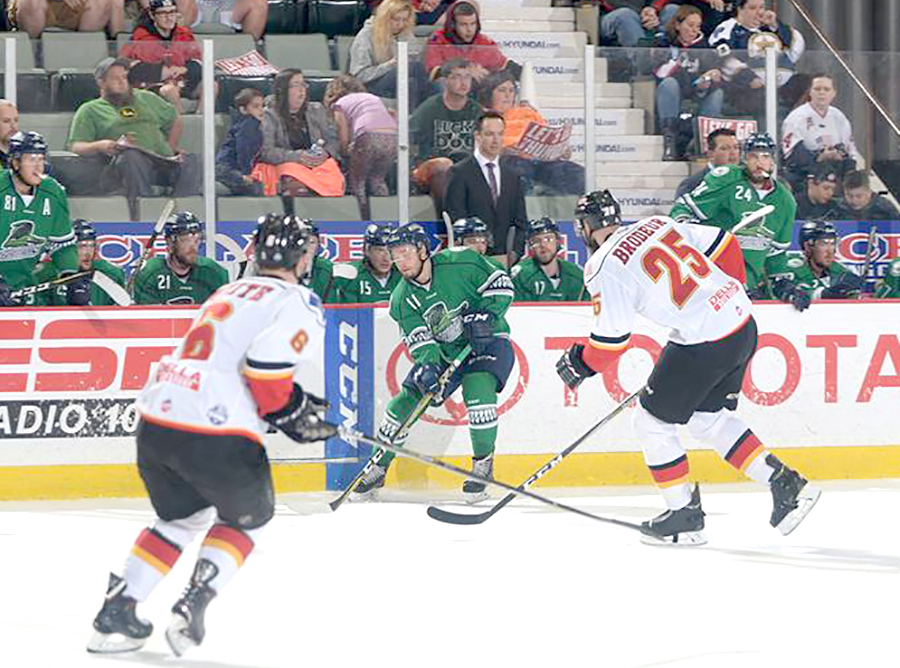 The Adirondack Thunder announced that all 2021-22 home games at Cool Insuring Arena will be played at full capacity with no restrictions.
The move followed the state's lifting of COVID restrictions, as numbers of those with coronavirus steadily dropped.
"We are thrilled that we can welcome our great fans back into our building this season," Adirondack Thunder President and Cool Insuring Arena General Manager Jeff Mead said. "This is a long time coming for not only our organization but for our fantastic community who came together to help everyone get through this devastating time. We look forward to seeing a sold-out Cool Insuring Arena on October 23."
The Adirondack Thunder's home opener on Saturday, Oct. 23, will mark 593 days since the last game (March 10, 2020, vs. Worcester). The Thunder host the Newfoundland Growlers at Cool Insuring Arena to kick off the 2021-22 season.
The organization also announced a multi-year partnership with SeatGeek, the ticketing platform, to become its primary ticketing partner.
"We are excited to work with SeatGeek to help revolutionize the way that our fans access and buy tickets," Mead said. "SeatGeek's technology is state-of-the-art and I think our fans will enjoy using it tremendously."
Starting this fall, fans attending Thunder games or any other Cool Insuring Arena event will use SeatGeek's  technology for a streamlined user experience to  buy, transfer and scan their tickets and use mobile tickets to stay contactless upon entering the building. Fans are also encouraged to download the SeatGeek app on their personal devices for an easier way to access, transfer and pay for tickets.
"As hockey and other events return to full capacity, we can't wait to kick off a new season with the Thunder and Cool Insuring Arena as partners," Jeff Ianello, executive vice president of Client Partnerships at SeatGeek. "We're excited to work with the team and venue to give fans a best-in-class ticketing experience."
Additionally, the Thunder announced a multi-year contract extension that will keep their affiliation agreement with the National Hockey League's New Jersey Devils. The 2021-22 season will be the fifth that the Thunder and the Devils have partnered to help develop future NHL prospects.
"The New Jersey Devils have been an outstanding partner since the Thunder moved east," Thunder Head Coach/Director of Hockey Operations Alex Loh said. "They have committed to help us win and we are excited to develop more of their players as we have in the past. We are thrilled to continue to work with them for the upcoming season and beyond."
"On behalf of the New Jersey Devils organization, we are pleased to join the Adirondack Thunder in the announcement to extend their partnership as our ECHL affiliate for the 2021-22 season," New Jersey Devils Senior Vice President/Assistant General Manager Dan MacKinnon said. "Since the affiliation was officially established five years ago, we have seen firsthand how the Adirondack staff developed and cultivated players for the transition to the American Hockey League. We are all excited to work together next season as the Thunder return to the ice."
Season tickets for the 2021-22 season are on sal. Call 518-480-3355 or visit ECHLThunder.com/tickets for more details.