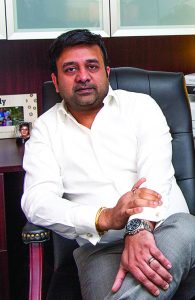 The Lotus Analytics process optimization and software development company in Warrensburg has launched a company that aims to provide payroll solutions for organizations of any size.
Lotus Payroll Services is part of the Lotus Group of Companies, a diversified business group with investments and involvement in various sectors including technology, finance, hospitality, construction, education, auto parts, auto care, and events management.
According to Ash Anand, founder of Lotus Group of Cos., Lotus Payroll Services starts on July 1.
Anand is a former finance executive with Citibank and General Electric Consumer Finance. He employs more than 120 people through his Lotus Group.
The payroll firm, will work with regional and national clients to help create local jobs and bring revenue into the Adirondack mountains where his firm is headquartered.
Anand said Lotus Payroll Services improves the experience for employers and employees alike.
"Our end-to-end solution leverages high quality customer service, cloud technology, automated data collection, ongoing data validation, and real-time insights to keep your quality talent informed while avoiding surprises at the last minute," he said in a news release. "Once the payroll run is complete, we are still working by your side to assist with bookkeeping, compliance audits, and whatever else comes your way. This complete solution brings you the freedom to focus on the lifeblood of your organization without stressing about the overhead."
"Times have changed and so have we. Our ongoing efforts to streamline and simplify against the growing complexities we face have created the comprehensive approach of one unified company capable of taking your organization to the next level," he said. "You will find our reliability, talent, robust tools, and dedication to service come together in the unique experience you have been looking for in a payroll partner.
He said Lotus Payroll Services is a long-established business services and process optimization company known for high-class service with a personal touch. Customized dashboards and reporting, integration with existing systems, enhanced alerts and reminders for cost planning, and proactive compliance monitoring are all available.
"If you have been worrying about doing more with less then let us become a part of your team at an affordable rate. Our mission is your success," Anand said.
He said his state-of-the-art payroll system is good for small or large organizations. It is customizable and involves: consultation with creative ways to engage workforce and incentive solutions; protection from payroll interruptions; easy transition and implementation; secure, flexible, and accurate time and attendance platform with real-time output.
"Count on the Lotus Group's latest service to take the stress out of your Payroll Processing. We see significant opportunity with the holistic offerings as this a unique proposition that is guaranteed to be robust, easy and cost-effective. We are changing the perception of payroll," said Anand.
The Lotus Payroll team can be reached by email at info@lotuspayrollservices.com and by phone at 518–623–0088.