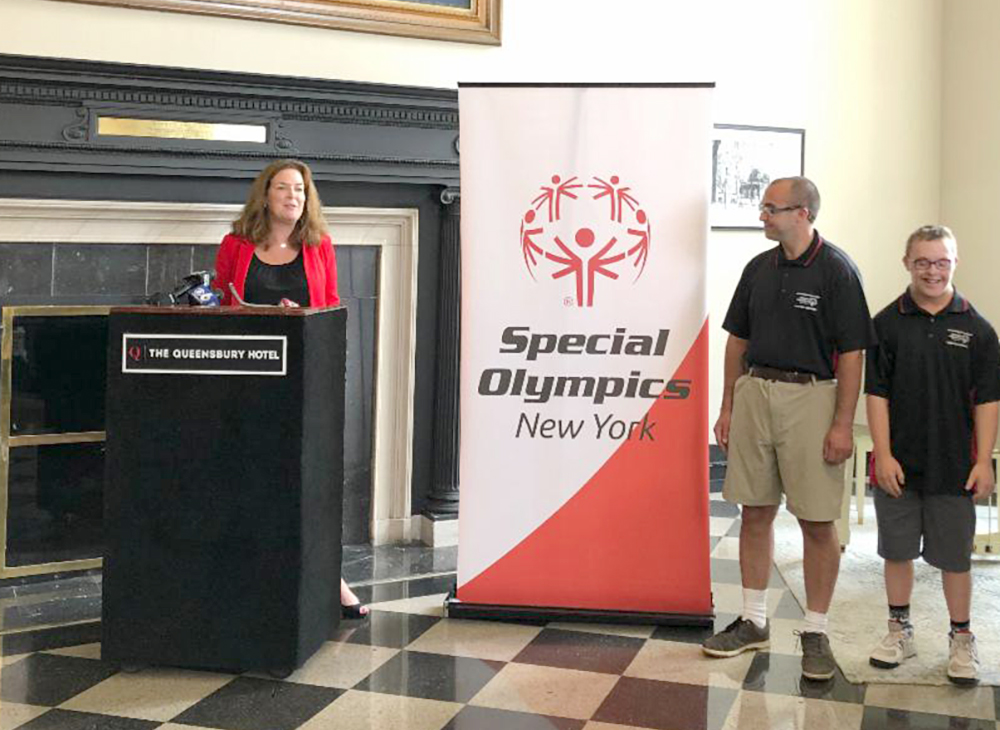 Special Olympics New York announced the return of State Fall Games, which will be hosted by the Glens Falls community Oct. 22 and 23 at sporting venues throughout the area.
The announcement was made at a Queensbury Hotel press conference with local officials and Special Olympics athletes.
State Fall Games athletes and coaches will compete in seven sports: bocce, cycling, golf, equestrian, soccer, softball, and cross-country running.
"The 2021 State Fall Games will mark two very special milestones for our athletes, coaches and fans," said Stacey Hengsterman, president and CEO of Special Olympics New York. "This will be our first fall games since we last held them in Glens Falls in 2015, and the first statewide competition we're able to host in-person since before the global health pandemic. I know I speak for our entire community when I say: Thank you, Glens Falls."
State Fall Games was eliminated from the Special Olympics New York budget six years ago due to financial constraints, leaving approximately 19,000 fall sports athletes statewide without a state-level competition, officials said. The games were slated to return last October, but they were delayed by the COVID-19 pandemic.
Special Olympics return to activity protocols require that at least 80 percent of event participants be vaccinated for the COVID-19 virus. Athletes who remain unvaccinated are required to wear masks and social distance at all times.
Unvaccinated status may result in further event and participation limitations, in accordance with local guidance. Proof of vaccination will be required for all coaches and volunteers who attend the games.
"We're looking forward to providing the best Fall Games experience yet," said Glens Falls Mayor Daniel L. Hall. "Whether you can lend a hand by volunteering, sponsoring, or providing an in-kind service to support the athletes, I encourage every member of the community to get involved."
"Our community is so excited to welcome and serve Special Olympics New York this Fall in the Greater Glens Falls Region," said Michael Bittel, Adirondack Regional Chamber of Commerce president and CEO and chair of the Fall Games Organizing Committee. "The number of volunteers we have for the upcoming Games is a testament to the giving of our wonderful region."
"I can't wait for State Fall Games, for athletes from all over New York to come back here and compete in my hometown," said Ben Purick, 27, of Glens Falls, a Special Olympics New York golfer.
A Games Organizing Committee is currently seeking sponsors, in-kind partners, and volunteers for the event.
Interested parties should contact Stacy Eder at seder@nyso.org.
Special Olympics New York is the largest state chapter in the country, serving more than 68,000 athletes across New York with year-round sports training, athletic competition, and health screenings. The organization also partners with about 250 schools statewide to offer Unified Sports, where students with and without disabilities compete as teammates.
All Special Olympics New York programs are offered at no cost to athletes, their families or caregivers. The organization has earned the Platinum Seal of Transparency from GuideStar.com, making it one of the most trusted charities in the business nationally.
For additional information about Special Olympics New York, or to learn more about getting involved or to make a donation, visit www.specialolympicsNY.org.