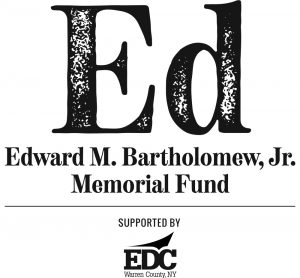 Ed Bartholomew, former mayor of Glens Falls and president of EDC Warren County who died in July of 2020, was honored after the disc golf tournament on Friday, Sept. 17, in Crandall Park, presented by the EDC.
The event was a  benefit for the new Edward M. Bartholomew Jr. Memorial Fund.
The Edward M. Bartholomew Jr. Memorial Fund, informally called "The Ed," was established in August by EDC Warren County and the Bartholomew family to honor the EDC's former president and Glens Falls' former mayor, carrying forth his legacy of dedication to public service, his passion for the community, and his enthusiasm for economic development by investing in the next generation of leadership.
The Ed provides funding for paid internships for students, veterans, and people with differing abilities at Warren County nonprofits and small businesses, matching interns with internship locations twice yearly.
It is overseen by EDC Warren County and the Bartholomew family along with an independent appointee from the
Bartholomew became a leading architect of the modern City of Glens Falls when in 1977 he was elected mayor at just 28 years of age. He was the youngest mayor in New York state at the time.
 He made it his mission to make the Glens Falls Civic Center a success. He recruited a big-name center director in Union College's legendary hockey coach Ned Harkness and landed an American Hockey League—Adirondack Red Wings.
Bartholomew worked on projects over the next 40-plus years to benefit Glens Falls, Warren County and the North Country region.
As mayor, he built a modern ball park and brought minor league baseball to Glens Falls. He brought new industry to Pruyn's Island and an intermunicipal sewage project to the Upper Hudson River. He helped establish the Greater Glens Falls Transit System.
He helped set the course for the revitalization of Downtown Glens Falls.
After several years in state government, Bartholomew became in 2013 the president of EDC Warren County. There, he secured federal, state and local funding for major public works projects and large and small businesses throughout Warren County, including a $10 million Downtown Revitalization Initiative Grant for Glens Falls.
"Ed was tireless in his pursuit of progress and entirely bipartisan in his approach to solving problems, and his lifetime in public service had forged close friendships with many federal, state and local officials who admired him and often relied on his wise counsel," EDC said after his passing.
Those who still want to make a donation to The Ed can send a check written out to EDC Warren County and mail it to  333 Glen St., Suite 101, Glens Falls, NY 12801.