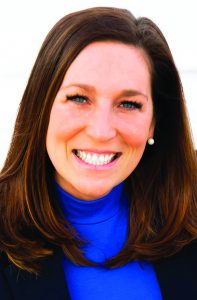 By Christine Graf
Because  of the COVID-19 pandemic, more Americans are working from home than ever before. The remote workforce grew from 22 percent in 2019 to forty-two percent in 2020. In some white-collar professions, 80 percent of workers continue to work remotely, and because employers are realizing that employees can be just as productive from home, remote work options are expected to become common even after the pandemic ends. 
For those who are spending more time in their home offices, interior designers suggest having a space that is both productive and aesthetically pleasing. 
Proper lighting in a workspace can increase productivity while poor lighting can cause eyestrain and headaches. Research shows that poor lighting can also contribute to depression and other deficiencies in the body. Adequate light has been shown to improve both mood and energy levels. 
According to Lake George Design owner, interior designer Katelyn Moskos, those who don't have access to natural light have various options. 
"You can layer lights if you don't have natural light. Don't just use the light on the ceiling, and use accent lamps. You want lights coming from all different angles as opposed to just head on."
According to Shelly Walker, interior designer and owner of Finishing Touches Home Décor in Malta, home offices have become a staple in people's houses. 
"People really want to make their home offices comfortable because they are going to be there a lot. Some of my clients say they aren't even going back to the office and will be working from home from now on," she said. "People are definitely dressing up their space behind the computer for having Zoom calls. They also want the lighting to be right for being in the meeting and for just being in the room. You want a lot of light including natural light."
According to Walker, more people are choosing to purchase height-adjustable desks as well as ergonomic chairs and keyboards. Height-adjustable desks can be easily raised and lowered and allow a person to work while sitting or standing, and an ergonomically designed workspace can reduce the risk of musculoskeletal injuries including strains and aches. While minor in the short-term, they can develop into serious injuries over time.
When deciding on a color scheme for a home office, Moskos suggests that her clients chooses colors that inspire them. When it comes to furnishing the space, she believes less is often more.
"Simple and minimal goes a long way. You don't want to overdo it. You are what you surround yourself with whether it be clutter or chaos or things that are simple and peaceful. A lot of people make the mistake of doing open shelving and having all of their chaos on the shelving exposed. 
"All of your storage should be in storage, and open shelving is for things that just make you smile. I also suggest de-cluttering weekly because a cluttered workspace clutters productivity."
Both designers agree that having a designated work space is especially important for parents who have children at home. 
"It's easy to get stuck in the rut of being at home especially when you have kids at home. You need to remind yourself that it is a work space," said Moskos.
Walker's clients are choosing to make their home offices more cohesive with the rest of their homes. They are adding comfortable accent chairs,colorful patterns, and rugs to make the space more welcoming. 
"People are starting to get away from all of the whites and grays, and they are choosing lighter woods," she said. "Another trend is that people are going with more wallpaper, and it's becoming a staple in everyone's house–especially temporary wallpaper that can be removed. Big patterns are very popular."
Wallpaper—both traditional and temporary—is also popular with Moskos' clients. Many are choosing what she describes as a busier design.
"They are doing a very simple room with that one bold accent wall," she said. 
When it comes to color, white remains popular at Lake George Design. Because it reflects so much light, white makes rooms looks brighter
"People are really responding to white. People like the lightness, the cleanness, and the simplicity of it," said Moskos. "They also like more natural products and combining different textures—maybe a fluffy pillow with a leather pillow and switching out the throw pillows every couple of months. It brings new light to the space that you are looking at every day."
According to Walker, her clients also gravitate towards products made of natural materials such as wicker and rattan. Woven rugs and greenery—both real and artificial—are also popular.
Although it's easy to get caught up in choosing furnishing and accents that are trendy, Moskos advises against it. She and her husband own Northern Living Vacation Rentals, and they have purchased and renovated many lakefront properties over the years.
"When I first started to do it, I was doing things that are trendy at the moment. Over the years, I have learned to do things that never go out of trend—things that are classic."