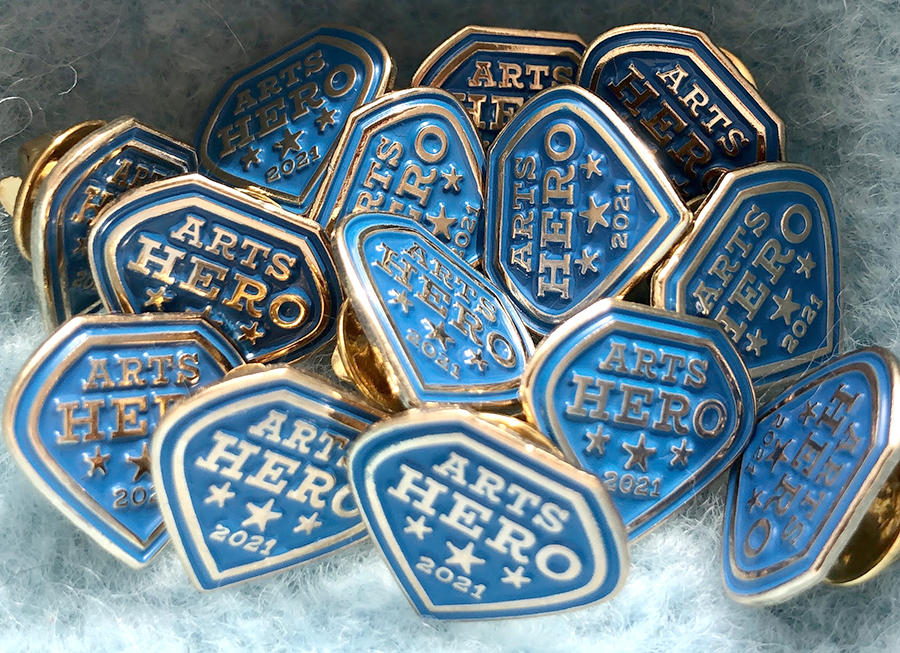 The Arts District of Glens Falls is making progress with its multifaceted launch of an arts trail stretching from the Chapman Historical Museum to the Hyde Collection Art Museum and Historic Home.
Plans include banners, bike racks, sidewalk stamps and public art to connect the 10 arts destinations and 14 arts organizations that comprise the Arts District.
Sponsorship opportunities are available for elements of the arts trail.
Bright blue bicycle-shaped bike racks will be placed at the 10 arts destinations, and  opportunities are still available. Sponsor names will be integrated into the wheel of the bike. The cost is $750 per bike rack for a two-year sponsorship, or $1500 per bike rack for a ten-year sponsorship.
There will also be a large Adirondack chair placed at the roundabout.
People who donate $100 can become an official Arts Hero. The Arts District is sending out pins to each Arts Hero who donates $10 or more to 10 different arts organizations in Glens Falls, including the Arts District of Glens Falls, in the year 2021. Donations are tax-deductible.
Donations can be made online at www.artsdistrictgf.com/hero.
"Wear it with pride. Your pinholder status means that we will email you our monthly Arts Bulletins and it earns you access to special privileges, deals and sneak peeks with Arts District organizations," said Bethanie Lawrence, executive director of the World Awareness Children's Museum and part of the Arts District of Glens Falls.
Launched in 2015, the Arts District of Glens Falls was created by 14 nonprofit arts and cultural organizations in Glens Falls with the goal of downtown beautification aimed at enhancing the cultural experience of this art-centered district and encouraging visitors to our City.
In addition, they have been working with the City of Glens Falls on a public art trail as part of the Downtown Revitalization Initiative.
The project must be completed by Oct. 31.
Visit www.larac.org/opportunities for more information, or call Candice Frye, executive director of LARAC, at (518) 798-1144.