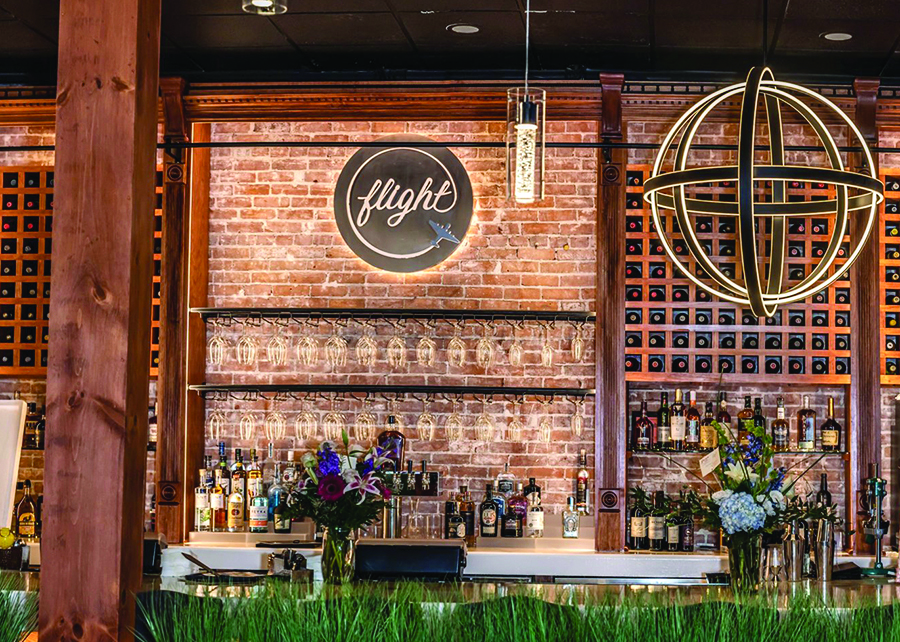 By Ginny Brandreth
Flight Wine Bar and Restaurant is a new restaurant at 11 South St. in Glens Falls.
The restaurant offers an elegant culinary experience in a fashionable, mid-century modern atmosphere. From the décor to the flight attendant uniforms, to the menu, the restaurant has an aviation theme.
Owners John Homkey and Melissa Brennan have been wanting to bring a new twist to the area's restaurant scene for years.  Flight Wine Bar got its start when the pandemic was just beginning, giving the owners time to fully develop their vision. The result is a restaurant they say is thriving as it takes guests on a new culinary adventure.
"Several years ago, I was traveling in Portugal and noticed how the locals savored life. How they took their time to enjoy food, drink, and culture. I decided then that I wanted to bring this experience home," said Brennan.
"I had always wanted to have a bar and restaurant and knew it would be best to find a business partner," Homkey said.  "I quickly fell in love with Melissa's vision and the thought  building this business together was a big bonus."
"As we started designing our restaurant, we knew we want to focus on the theme of travel', said Brennan.  "At Flight, our guests are treated to different cultures through international cuisine, wines and beers in a way that mirrors a dinner in a foreign country".
Guests are greeted by a stewardess that hands them their "boarding pass" and takes them to their first-class seat. Soon, passports will be available that guests can get stamped when they order, thereby accumulating reward points.
Locally renowned executive chef Denver Grover, has designed her menus to incorporate local and imported ingredients to create culinary adventures around the world.
"My goal is to have our guest feel like there are dining 'in country' with foods and wines that allow them to experience the unique flavors of a region," said Grover. "My focus is on method as well as ingredients so we can deliver authentic, native dishes."
Current menu favorites include parmesan fried artichokes, French pate, Stracci (lamb stew), in addition to filet and scallops. Even the charcuterie boards are taken to a new level, curated to reflect a specific region or country with foods sourced from their particular region.  Grover has also created "destination" flight menus, featuring small plates for those that want to immerse themselves in the cuisine of one country, such as Italy or France.
As its name suggests, Flight Wine Bar offers a curated wine selection presented by the glass, by the flight, or by the bottle.
"We offer a boutique wine collection that isn't commonly found, classics that pair well with food that are delicious," said Calanne VanLaeken, wine expert and general manager. "I want our guests to have fun with wine by making it approachable, not intimidating. I want them to try wines from parts of the world they might not otherwise have considered."
Along with a full bar, she has also developed a menu of classic cocktails that blend traditional recipes with international spirits and cordials as well as house made ingredients like syrups and herb blends.  Like their wine and beer selections, flights of cocktails will also be available.
The restaurant features a 10-seat bar and a fashionable dining room. Soon, patrons will be able to attend special events in the Winter Wonderland  patio.
Flight Wine Bar is located next to Flight European Market & Deli, which features signature blend coffees from beans sourced around the world. It also has a selection of craft beers and other locally supplied culinary items.  The Market & Deli serves a full breakfast and lunch menu, and is open Tuesday through Saturday, 7:30 a.m. to 2 p.m. Thursday through Saturday there are additional hours of 5-9 p.m.
Flight Wine Bar is open Tuesday through Saturday, 5-9 p.m. Reservations are recommended but walk-ins are welcome.  They can be reached at 518-502-1627 for information and reservations. The website is flightwinebarandmarket.com.