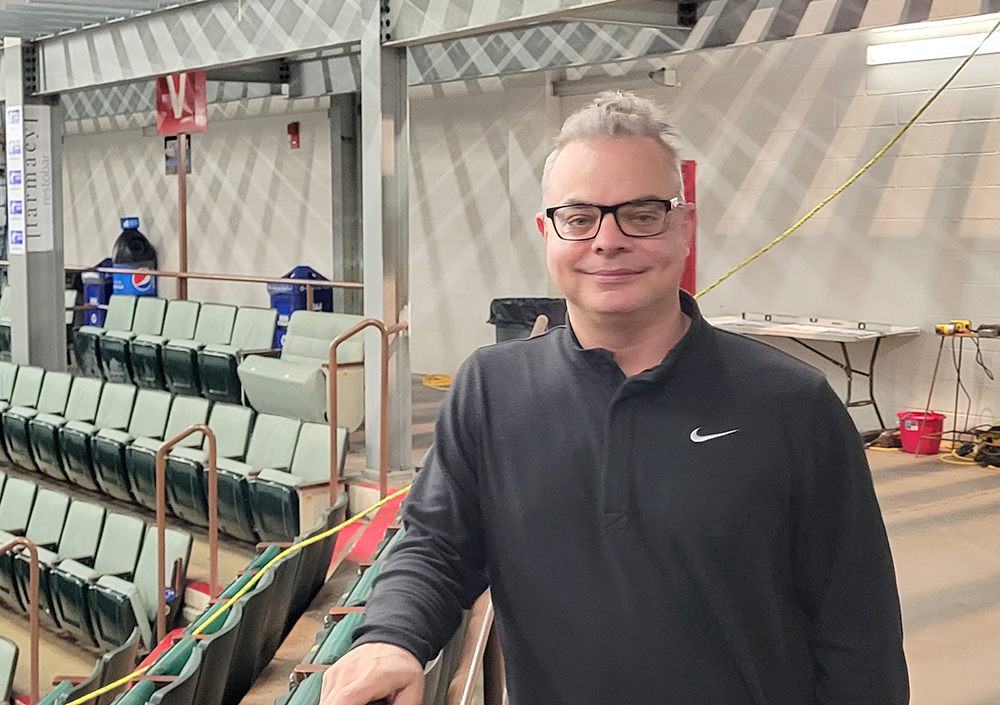 By Paul Post
The Adirondack Thunder, the ECHL's smallest-market hockey team, is outperforming many of its biggest rivals both on and off the ice this year.
The Thunder, bolstered by a solid New Year's Eve crowd (4,111), averaged 3,448 fans through their first 11 home dates, ranked 11th in the 27-team league. And by winning seven of 10 games (7-2-1) through Jan. 2, the team had moved to within six points of first-place Newfoundland in the tightly-packed North Division standings.
"It's been a very strong start," team president Jeff Mead said. "Season tickets, group numbers and walk-up sales are all up and corporate support is in the league's top 10. Obviously we had a year off last year because of COVID, so there's a lot of pent up demand. But the community is really embracing the Thunder and quality of play."
It's hoped that two major upgrades currently under way at Cool Insuring Arena will be completed before the ECHL's Kelly Cup playoffs begin in April, perhaps even in time for the state high school boys basketball tournament in March.
Rozell Industries is hard at work constructing five new luxury suites, extending out from the press box, on the north side of the building.
"Just like the rest of the world, they've been dealing with supply chain issues," Mead said. "We can't wait to see it finished. All arenas have private seating areas now. It's a big investment, but we think the return will be great for us long term."
The suites are expected to generate considerable extra revenue, the same as other recent improvements such as the large video scoreboard that has created new advertising potential. The suites project is being funded by the Adirondack Coalition, which is in the second year of a five-year lease to operate the building with its owner, the City of Glens Falls. Mead, who is also the arena's general manager, declined to cite the job's price tag.
Separately, the 43-year-old arena is also getting a brand new roof, paid for by the city ($1.8 million).
"When it rains outside it leaks inside, which is not a great experience for our guests, so it's very exciting to get both of these things done," Mead said.
Cool Insuring Arena reopened last August after being closed since March 2020 when the pandemic struck, also bringing the Thunder season to an abrupt halt. Business rebounded slowly at first, starting with ice rentals and a two-week private event last September.
In addition to the current Thunder campaign, the arena hosted the state high school girls volleyball championships and the Adirondack Stampede rodeo this past fall.
"There were 3,000 people here for the two-day volleyball tournament and 8,000 fans turned out for the rodeo, the most ever since I've been here," Mead said.
Pro wrestling returned to the arena with a WWE Supershow on Jan. 8.
Looking ahead, there's a possibility of a concert or two this winter and the arena is slated to host both the Section II wrestling and boys basketball tournaments, followed by a return of the state high school boys basketball tourney in March, for the first time in five years, officials said.
Depending on how many local teams participate, the state tournament could draw more than 30,000 fans to Glens Falls, which hosted it from 1981 to 2017 when Binghamton won the next three-year contract. Last year's tourney, scheduled for Glens Falls, was canceled by COVID.
"Once we get to April hopefully we'll be able to do a circus and a few other non-hockey events," Mead said.
The pandemic continues to pose a challenge for the Thunder and overall arena operations. Four home hockey games were postponed in December followed by a fifth on Jan. 2.
Four of the five games have already been rescheduled for Thursday, Jan. 27 along with Tuesday, Wednesday and Friday, Feb. 22, 23 and 25. "Replacing a Saturday with a Wednesday hurts financially, but it's part of the COVID world we live in right now," Mead said. "We'll get through it, we'll manage our best."
Except when eating or drinking, visitors are required to wear face coverings at all times inside the arena. The state and Warren County mandate is in effect until mid-January when it will be reevaluated.
Mead said the Thunder simply can't afford to ban concessions, a major source of team revenue. "If we don't sell food and beverage it doesn't make sense for the arena to open," he said.
Of course, this presents another challenge to Thunder attendance, but Mead said he's confident fans will continue to support the team, especially if it keeps winning as playoffs approach. 
"There's always going to be a small number of people who won't come because of a mandate or will voice their displeasure with it," he said. "But as we have since day one, we're going to follow the mandates. Hopefully the team continues to play well on the ice and fans continue to come out."