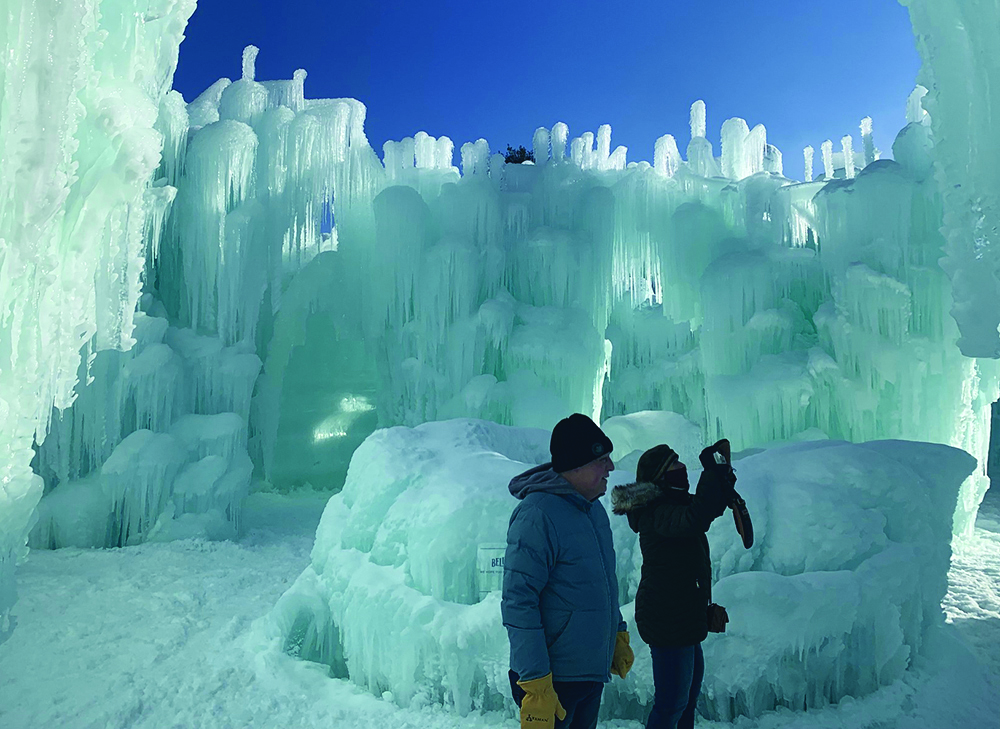 By Paul Post
Only a week after opening, more than 75,000 tickets had already been sold to a major new winter attraction that officials hope can contribute to transforming Lake George into true year-round tourist destination.
Visitors to Ice Castles—a 1.5-acre man-made sculpture with frozen 25-foot-high archways, tunnels and slides—are expected to spend more than $4 million for lodging, meals, fuel and similar services.
Located at Charles R. Wood Park's Festival Commons, 17 West Brook Road, it coincides with this year's 60th annual Lake George Winter Carnival, featuring a slate of fun activities each weekend in February.
"This is big, really big," said long-time Mayor Robert Blais, who has worked  to promote winter tourism for many years. "All the businesses that have been open all these years, that have struggled through the winter and supported the Winter Carnival, I say thanks to them. Now you're going to be rewarded. To the ones that don't stay open and take advantage of it, I say, 'You don't know what you're missing'."
In addition to Utah, where Ice Castles is based, the company has similar attractions in Minnesota, Wisconsin and New Hampshire. This is its first time in upstate New York.
"We researched it very carefully," Blais said. "I called communities wherever Ice Castles has been or still is, and talked to the mayors and supervisors. It fills every (hotel) room that's available."
Room reservations at Fort William Henry Hotel & Conference Center are up nearly 20 percent, said Tom Wysocki, sales and marketing director.
"Our weekends are sold out in February," he said. "We also got a lift in midweek, which we normally may not have had. There was an impact on occupancy as soon as it was announced that Ice Castles was coming and the dates it would be open."
"This is our best February ever," said Jen Vidnansky, Lake George Holiday Inn sales director. In addition to hotel bookings, Ice Castles is also generating business for TR's Restaurant at Holiday Inn.
"It's certainly pushing people this way, which is awesome," she said.
The attraction opened on Sunday, Jan. 23 and will welcome guests as long as weather permits.
Site work began last fall with layout and design. Plans called for an early January opening, but mild holiday week weather delayed things a bit. Then, as temperatures plummeted, crews quickly kicked into high gear.
The structure was built by a team of about 60 workers, some local and others from across the country, under the watchful eye of project manager Joe Weiler. 
The construction process starts by growing 5,000 to 12,000 icicles per day, formed by spraying water onto horizontal sections of chain link fence. Icicles are then harvested by hand and individually added onto existing formations, which keep growing as a fine spray of water, from nozzles located throughout the grounds, turns small icicles into tall upright pillars.
"To see it go from nothing to where it is now, it's quite amazing," Wysocki said.
When first announced, officials estimated that 90,000 tickets would be sold. But that number will likely be far surpassed as 76,000 had already been sold before Winter Carnival got under way on Saturday, Feb. 5.
Blais cited "enormous" collaboration between the Village of Lake George and Warren County for making Ice Castles possible.
Warren County approved $50,000 in occupancy tax funds to support such efforts. In addition to Ice Castles and the Winter Carnival, the county has invested $215,000 in occupancy tax for winter events including the Festival of Lights, Adirondack Christkindlmarkt, Lake George Winterfest and New York State Ski & Education Foundation.
"This has an impact not only on Warren County, but the entire region, which we can showcase," said Michael Bittel, Adirondack Regional Chamber of Commerce president and CEO.
"We are thrilled with the response to Ice Castles," said Gina Mintzer, Lake George Regional Chamber of Commerce executive director. "Visitors are coming from around the Northeast. Hotels are realizing robust business and a few restaurants that we know of have stayed open additional evenings including 10 McGillis Public House and Barnsider Smokehouse BBQ."
The Village of Lake George is also realizing a direct financial benefit, as Ice Castles is expected to pay $25,000 for the huge volumes of water needed to create the display, making it the water district's biggest customer. It's an environmentally-friendly attraction, as clean melting ice water will eventually run into the nearby lake.
Ice Castles is also open at night when thousands of colorful LED lights transform features into a fascinating sight spectacle.
"You see a beautiful, kind of glacial natural look during the day," said Kyle Standifird, Ice Castles chief executive officer. "Then in the evening, that's a whole different experience. It's fantastic. It really is a place where the imagination can go wild. We strive to bring magic to all of our guests. That's our stated goal."
Company founder Brent Christensen crafted his first icy creation in his home's front yard, for his children, after moving from sunny California to snowy Utah. His ice cave was a hit with kids from all over the neighborhood and eventually across town as they bundled up and headed outside to play at the wintry wonderland, which they nicknamed "ice castle."
More than 4 million people have visited Ice Castles at sites across the U.S. and in Canada since its inception in 2011.
Ice Castles has generated media coverage from numerous local, state and nationwide outlets including The Weather Channel, seen by millions of viewers across the country, which helps promote and bring visitors to Lake George.
"Throughout the pandemic many events have been canceled, but this community has stayed strong, working together to ensure the growth of winter tourism in our area," said Kristen Hanifin, county tourism development and events coordinator. "Over the past few years you've tirelessly worked together to bring a transformative winter vision to this area and region. We are finally making Warren County a true 'winter-cation' destination."
From all indications, Ice Castles could become a Lake George mainstay.
"I've done this at a couple other cities," said Weiler, the lead ice builder. "Working with Warren County and the Village of Lake George has been unlike anything we've ever dealt with before. You've been so supportive of us."
For tickets and information see: www.icecastles.com.