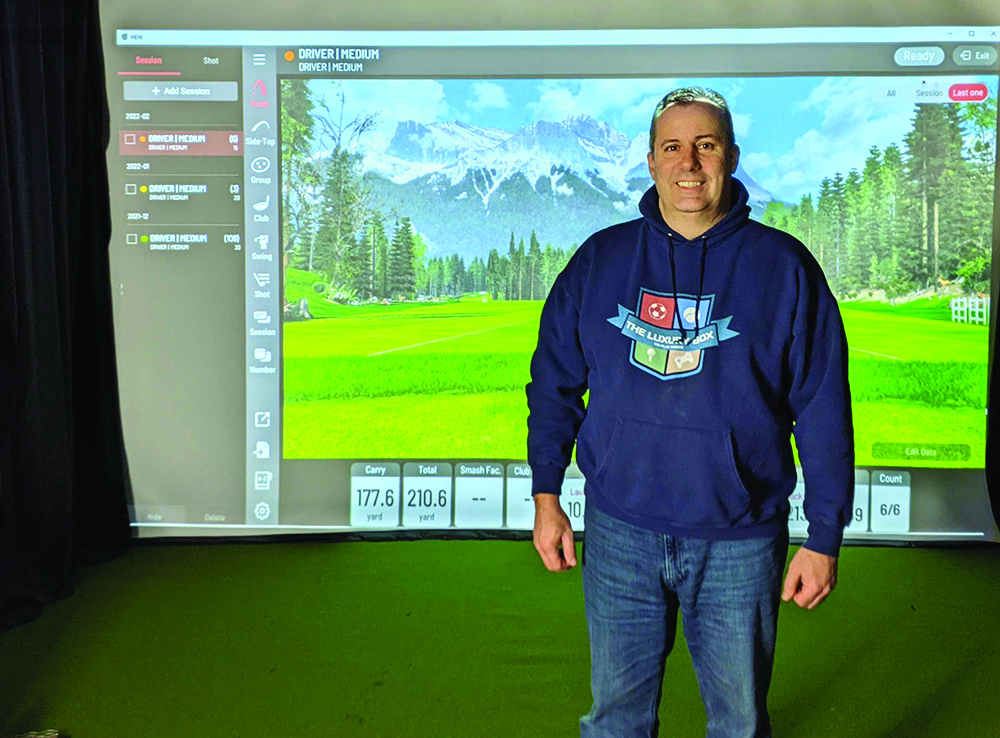 by jennifer farnsworth
It has been just over a year since David Brindle first broke ground on his business venture, The Luxury Box. The Queensbury-based indoor sports and entertainment facility  opened in the fall, and since then, Brindle said they have been growing at a steady pace.
"Business started slow in October when we first opened.  The week of Thanksgiving things increased.  December was slow with people playing but we sold a lot of gift certificates.  January really picked up with players coming in to use the facility," said Brindle.
The facility is for any age and skill level, and can be utilized any time of year. Brindle said they have seen the units used for family nights, girls nights and game nights. He expects there will be more weekly golf tournaments starting this month. 
He said all of the sports simulators are popular, with golf in particular.
"We have a large diverse client base.  Weekends are busy with families using our multi sport simulators along with a wide range of age groups playing golf.  As expected, most people coming in are playing golf in the winter," said Brindle.
The party and corporate suite is one that has been heavily used on weekends since opening
"We do have a few corporate members that use our facility for business meetings and team building. Our party and corporate suite can hold 20 people and costs $90 an hour, it is twice as large as our regular suites. It has two big tables with chairs, a pool table, air hockey, ping pong, dartboard, Xbox and a shooting simulator along with all the other sports in the regular suite.  You can bring your own food and drinks," said Brindle.
Initially, most customers were locals from Queensbury and Glens Falls, but more recently has seen an increase in people coming from other areas.
"Word of mouth has been spreading and we are seeing people come from Whitehall, Rutland and Saratoga," said Brindle.
Each suite features golf, soccer, baseball, hockey, bowling, foot golf, frisbee golf and dodgeball. Along with playing sports people can also watch TV and movies in  leather reclining chairs. There is also music and a state-of-the-art sound system.
People can reserve a suite online at www.theluxurybox.net/book or call at 518-741-0015.