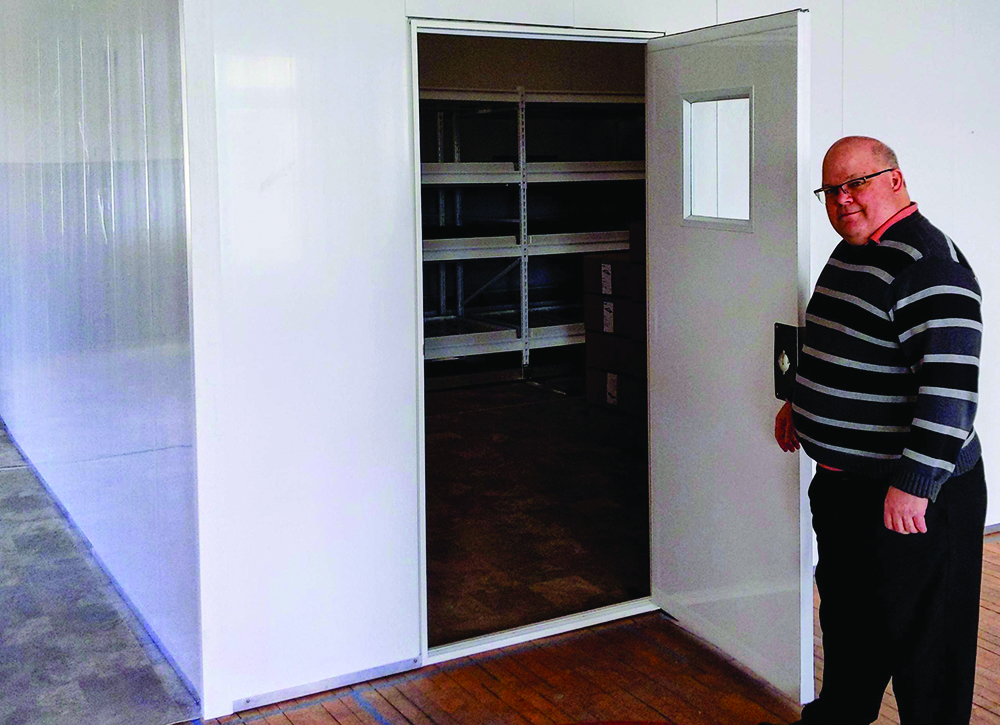 By Christine Graf
The city of Glens Falls will embark on the creation of a vertical farm—an indoor farm designed to grow vegetables and herbs. 
The city received a $97,600 grant in 2020 to develop it. Glens Falls was one of 10 municipalities in the state to receive a share of the $1 million in grant money made available by the Empire State Development Smart Cities Innovation Partnership. The partnership is a pilot program to facilitate the development and integration of emerging technologies into public services.
According to city Economic Development Director Jeff Flagg, the idea of creating some type of urban/vertical farm is one that officials have discussed for several years. Not long after applying for the grant, the COVID pandemic led to business shutdowns and supply chain issues. Then the idea made even more sense.
"We knew we might be faced with empty spaces in downtown areas that needed to be repurposed, whether temporarily or permanently," said Flagg. "We wanted to come up with a model where we could—relatively quickly and relatively easily and with minimal alterations to an interior space—create what I call a box-in-a-box. You build a cube within a room and that becomes your farm. It fits the contour of the room that you are building it in."
The box-in-a-box design is one that can be replicated in any building with sufficient access to water and energy. It can also be easily packed up and transferred to a new location.
The third floor of 22 Ridge St., home to the [farmacy] restobar, was chosen as the location for the Glens Falls urban agriculture pilot vertical garden. Building owner Brian Bronzino offered the space at no cost. 
A number of equipment suppliers from around the country offered discounts on necessary materials and several local plumbers and electricians have donated their services. National Grid has also provided  financial and technology support for the energy-entensive project.
To get a grant, municipalities were required to partner with technology companies. Glens Falls partnered wiht  New York City-based Re-Nuble, a company that helps communities utilize food waste for more sustainable growing practices, as well as Syracuse-based The Tech Garden, a technology incubator.
The pilot program was slated for 2021 but was delayed due to COVID. Pandemic-related cost increases and material shortages have proved challenging.
"We were seeing delivery dates that went from six weeks to 16 weeks," said Flagg. "The only thing that is holding us up right now is the electrical infrastructure which needs to be updated pretty substantially. We hope to commence operations on April 1, which would mean we would have our first produce six weeks later."
The vertical garden takes up about 480 square feet of the 2000-square-foot third floor. It will be used to grow a variety of greens, lettuces, and herbs.
"The pilot is pretty small, so it's not like we will have lots of variety," said Flagg. "Once the pilot is over, we will probably build another larger box in the space once the commercial viability is demonstrated. The premise of this is to turn it into a viable commercial venture that can be replicated and scaled."
One of the goals of the pilot program is to ensure that the vertical garden is complementing, not competing with, local farmers.
"The idea is not to directly run into competition but to perhaps address some of the supply chain issues and climate issues … We have been in contact with some of the local restaurants, and down the road, we might look into donating to food banks," he said. 
SUNY Oneonta graduate Josh Fabian has vertical farming experience and was hired to oversee growing operations.  
Flagg believes there is something unique about the pilot program in Glens Falls.
"You are helping deal with the climate issue, alleviating some of the COVID supply chain problems, and providing local small-scale entrepreneurial jobs," he said.
"The premise is that if you can do this in the space that we are using—which is a third-floor walkup with no elevator—you can do it in any of these New York state towns that have beautiful downtown buildings that are in many cases hard to renovate economically, buy you don't want to rip them down."
The pilot program is designed to demonstrate whether vertical gardens are economically viable while identifying potential stumbling blocks. 
"What will come from this will be hopefully a how-to guide—an off-the shelf model that an entrepreneur can use to go and build these around upstate New York," said Flagg. "I think the real question is how economically can this be done and what kind of support can you get?"
What will happen to the vertical garden after completion of the pilot program is unknown.
"The city isn't going to be in the farming business," said Flagg. "What we have to do is figure out a way to transition this from a state-funded municipal project to self-supported commercial enterprise."