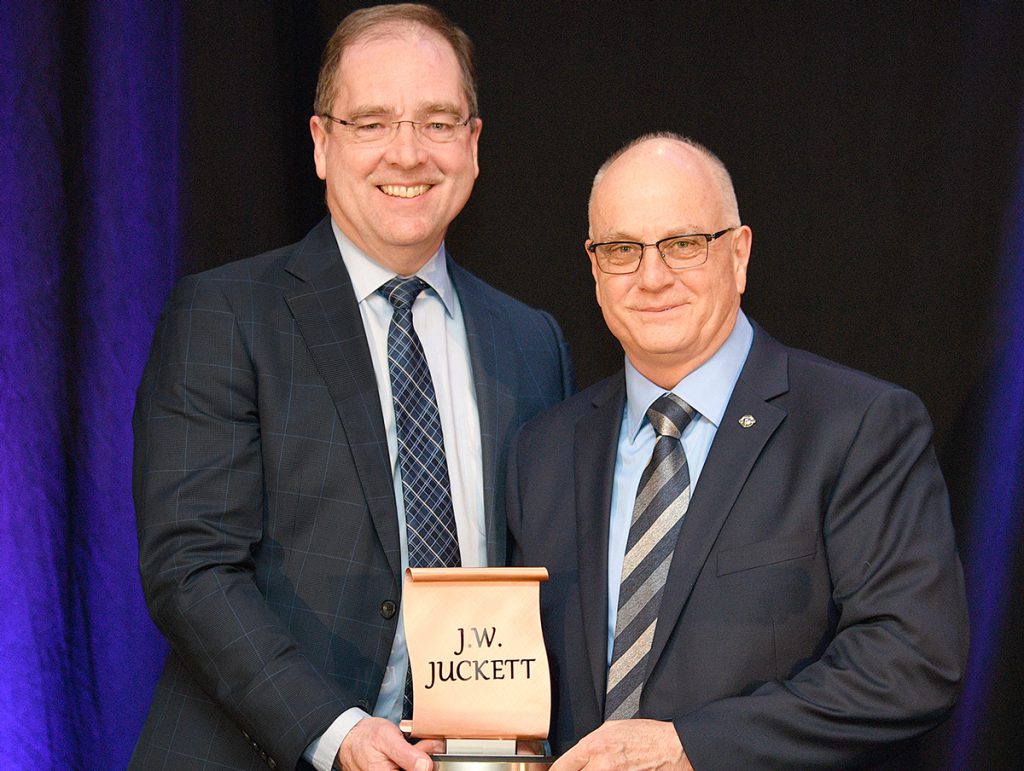 The Adirondack Regional Chamber of Commerce (ARCC) celebrated the community contributions of attorney Carl T. Baker, of FitzGerald Morris Baker Firth P.C., who received the 33rd Annual J. Walter Juckett Community Service Award on April 1.
Baker was presented the award at the ARCC Annual Dinner  at The Sagamore Resort in Bolton Landing. 
"I am truly honored to receive this award," said Baker. "Since Sandy and I moved here to live, work and raise our family, we have never thought of being anywhere else. The people, the community, the area have always made our lives richer. We are forever grateful to the good fortune that brought us here."
Thomas Murphy, president of Glens Falls National Bank/Arrow Financial Corp. presented the award.
"I was very proud to nominate Carl Baker for the 33rd Annual J. Walter Juckett Community Service Award, and to be able to present it to him at the ARCC award dinner. Carl makes our community a better place to live and work and he is most deserving of this recognition for his lifetime of community service," said Murphy.
The ARCC was joined by almost 300 business and community members in celebrating  Baker's accomplishments, as well as reflecting on how far the community has come over the last year.
"Carl Baker exudes all that the J. Walter Juckett award stands for. Carl's passion, commitment, and leadership in our region is second to none. The ARCC is blessed to bestow this lifetime achievement award to Carl," said ARCC President Michael Bittel.
Baker's contributions to our community include service on multiple boards, councils, and committees including: Kiwanis Club of Glens Falls; Glens Falls Kiwanis Foundation; board of governors of Glens Falls Hospital; Planned Giving Council of Glens Falls Hospital; Glens Falls Hospital Foundation; Widowed Persons Service of Greater Glens Falls Area; Compre-Care Inc; Glens Falls YMCA Legacy Club Committee; WAMC Gift Planning Advisory Committee.
Born in Gloversville, Baker went on to pursue a career practicing law, achieving a B.A. from Cornell University in 1973, then his J.D. from Albany Law School in 1978. He was admitted to the bar in 1979. Baker is married to Sandra Stoffolano and has two children, Christopher and Jessica. He is a founding shareholder of FitzGerald Morris Baker Firth PC, and former managing partner and current head of the firm's Trusts and Estates practice group.
His professional achievements include authoring multiple publications, lecturing for the New York State Bar Association (NYSBA) Continuing Legal Education (CLE) programs and chairing several of its CLE programs. In 2013 he led the 4,000-plus members of Trusts and Estates Law Section of the NYSBA as the Section Chair and in 2015 he was elected to the American College of Trusts and Estates Counsel, among other lawyering awards.
The J. Walter Juckett Award, named in honor of the longtime chairman of the Sandy Hill Corp., was created 33 years ago to recognize and honor a deserving member of the community who has selflessly gone above and beyond by contributing time and energy to help others.