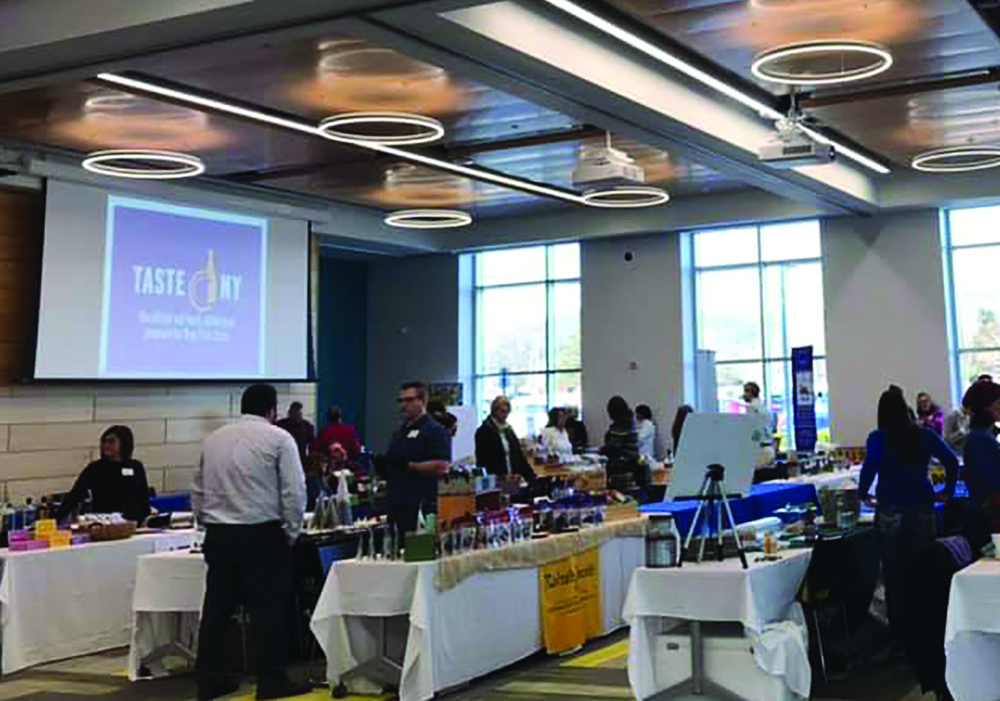 Local restaurants, wholesalers, and other businesses looking to connect with local food and beverage producers will have a chance to meet face-to-face at the Taste NY Producer Showcase this month.
The Lake George Regional Chamber of Commerce and Taste NY will present the showcase on Thursday, April 28, at SUNY Adirondack. It will take place in the Northwest Bay Conference Center at Adirondack Hall, 640 Bay Road in Queensbury.
This business-to-business expo event is intended to help farmers and agricultural producers in the Adirondack region and New York State grow their businesses and encourage hotels, restaurants, bars, retail locations, and institutions to purchase local products. In addition to the expo, businesses can also take part in educational workshops and a networking breakfast.
This showcase will be the third business-to-business food show organized by the Lake George Regional Chamber of Commerce. The Adirondack Region Food and Farms Business Expo was held at SUNY Adirondack in December 2019 followed by a first-of-its- kind Virtual Taste NY Producer Showcase in October 2020 which featured 60 producers in a fast-pitch virtual environment. 
The virtual format was a modification made to the event in response to the challenges presented by the COVID-19 pandemic.
"We are pleased to return to the in-person format this spring with a showcase that offers 50 New York State producers an opportunity to connect with potential wholesale buyers and attendees from the Adirondack region," said Gina Mintzer, Chamber executive director.
New exhibitors this year include:
• Caliva Cookie Co., Italian-style biscotti (Ballston Lake); ImmuneSchein, handcrafted ginger elixirs based on German herbal traditions (Ulster); Perfeito, Brazilian spice blends (Auburn); and 2 Queens, Certified LGBTBE honey and roasted coffee (Narrowsburg).
Some returning exhibitors include Springbrook Hollow Farm Distillery, Fodor's top 10 distilleries in New York (Queensbury); and Meadowdale Farm Winery, award winning winery located at Black Creek Farm (Altamont).
Admission is free. Booth space for producers is $25 and includes a breakfast networking event and two morning workshops to help producers expand their reach in the marketplace.
For more information and to register, contact the Chamber at 518-487-0045 or visit www.lakegeorgechamber.com/tasteny
There will be representatives from Taste NY and the Lake George Regional Chamber of Commerce at the networking breakfast 8 -11 a.m.
A morning workshop 9-10 a.m. is called "What's Unique about Your Farm and How to Sell it to Wholesalers," with Kim London of SUNY Adirondack. It will cover how to identify and use a farm's "unique selling proposition" to reach customers and develop a brand; how to succinctly pitcha farm's unique characteristics to a range of customers including wholesalers; how to use the pitch; and how to foster a better understanding of the best practices associated with building and maintaining relationships with wholesale buyers. 
A morning session 10-11 a.m. is a packaging audit workshop with Maureen Ballatori , founder and CEO of 29 Design Studio, and Tom Seymour, business development specialist at Bison Bag.  People can bring their existing packaging or packaging examples they are considering and engage in a working session to discuss design, packaging engineering, and sustainable packaging design.
The vendor expo  will run from noon to 4 p.m.
Officials said the Taste NY initiative has seen steady growth and recognition since it was created in 2013. The program, which is overseen by the Department of Agriculture and Markets, creates opportunities for local producers to showcase their goods at a variety of venues throughout the state and at large public events, such as the Great New York State Fair and the Barclays Tournament at Bethpage State Park. 
It has also helped the farms and companies participating in the program to reach more customers, increase online sales, and, in many cases, expand the processing capacity of their business. Taste NY's food and beverage businesses also support the state's farmers by using New York grown and produced ingredients in their products.