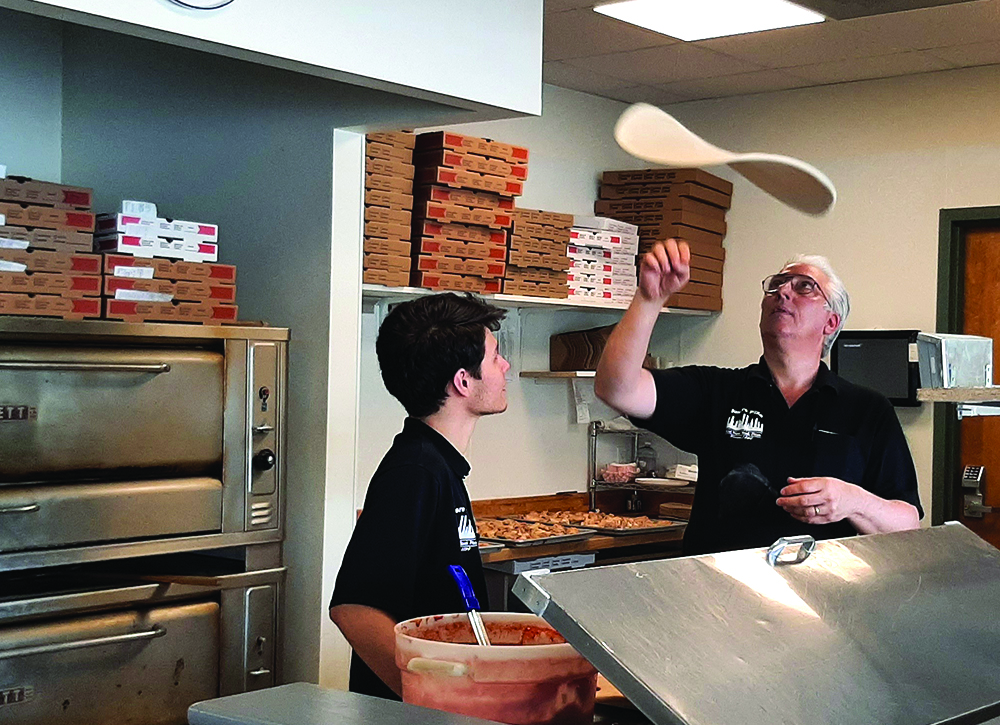 By Jill Nagy
Rick Grabowski has moved his Amore Pizza next door, doubling the space, including more spacious room for food preparation and production. 
The new location, the former TD Bank North at 340 Aviation Road, Queensbury, opened over a month ago.
"Everything is new" in the space, he said. They spent seven months renovating the premises before they moved in. 
"Our new storefront has lots of windows, offering a bright and inviting space," he said. "We've been needing more room to cook for many years."
The shop can now seat about 20 customers for indoor dining but is still primarily a take-out and delivery operation. They deliver within three to five miles of the restaurant. 
In addition to New York City, Neopolitan and Sicilian style pizzas, Amore offers chicken wings, calzones, and hot and cold subs, as well as non-alcoholic beverages.
Grabowski has been making pizza since he moved to the area from Long Island as a teenager. By the age of 20, he had his own shop, Rick's Pizza, in Saratoga Springs. He sold that business after five years and in 1990 moved to Queensbury with his wife, Janet, and their two daughters, Nicole and Christine. They bought a pizzeria at their former Aviation Road location called Boppitt's, but quickly renamed it Amore Pizza.
Over the past 32 years, the Grabowski family has operated Amore Pizza. Recently, a grandson, Damien, joined the crew. There are 18 employees, including Stacey Dudley and Cheryl Smith who have worked at Amore for more than 10 years.
"We have built a great business over the years, having had great employees and customers alike. While we had outgrown our space, we still loved our location. So, when TD Bank closed next door, I knew it was time to make a move," Grabowski said.
The old location did not stay vacant for long, he said. It its now undergoing renovation and will soon house a computer services business.
The restaurant is located in Evergreen Plaza, near Northway Exit 19 and Queensbury High School. It is open from 11 a.m. to 10 p.m. seven days a week. 
The telephone number is 518 792-2285.