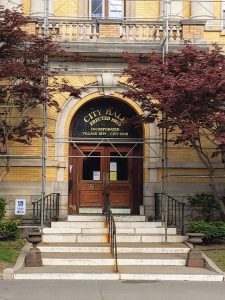 Standing outside Glens Falls City Hall in April, U.S. Sen. Charles E. Schumer announced that the Adirondack Region will receive over $2 million for essential local projects through the bipartisan omnibus spending package for the federal fiscal year 2022. 
According to Schumer, the projects include making repairs to Glens Falls City Hall, funding major water upgrades to the Canalside Energy Park in Fort Edward, rehabilitating Fort Ticonderoga, and boosting Warren County's childcare programs. 
"These community led projects are the embodiment of the needs for the Adirondack region, from preserving our history through Fort Ticonderoga and Glens Falls historic buildings, to addressing the need for more child care programs and modern infrastructure to help Warren and Washington counties grow like never before," said Schumer.
The investment in the Adirondack region includes:
• $439,000 for City Hall. It will fund substantial structural renovations and energy upgrades. Glens Falls City Hall was built in 1900 and has served as the headquarters of the city's civic affairs since Glens Falls was incorporated as a city in 1908. The building is a part of the Three Squares Historic District which is on the National Registry of Historic Places for the areas prevalence of unique and influential architecture. Work includes a new roof, replacing the gas-fired boiler heating system with a high-efficiency heat pump and heat recovery system, to make the building more eco-friendly. 
• $950,000 to upgrade the former General Electric de-watering facility in Fort Edward into the Canalside Energy Park. The funding will be used by the Warren/Washington Counties Industrial Development Agency to replace the temporary bridge at the entrance to the park; complete wastewater construction; upgrade the existing potable water infrastructure; install a natural gas line to the park; improve the current primitive internal road structure, including stormwater conveyance; and upgrade the electrical supply within the park.
• $205,000 for the Warren County Employment & Training Administration. The funding will be used to recruit, train, and open more childcare provider businesses. The funding covers the training and state licensing, as well as the start-up costs for the childcare business.
The Adirondack region will benefit from this project because parents will be able to utilize and support a home-based childcare business in their own community and that keeps the revenue and long-term investment at the local level, Schumer said.
 • $500,000 to restore Fort Ticonderoga's iconic and historic walls. Over the nearly 250 year history of the fort, much of the exterior walls have become damaged due to age and weather. The funds will help prevent the loss or further degradation of the site. 
Schumer said that Fort Ticonderoga is a significant national historical site, is a vital community anchor in Essex County and driver of the North Country's tourism economy, and that this preservation funding will ensure that students, families, and other visitors from around the world can continue to visit and learn about the site firsthand.