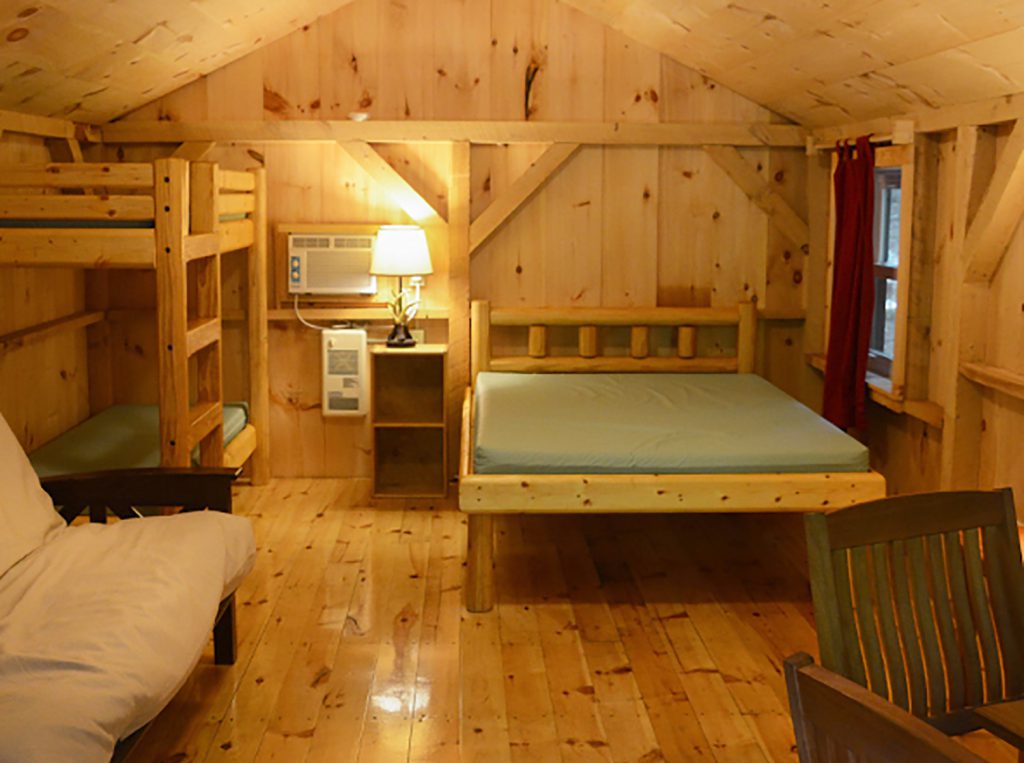 By Christine Graf
The 67-acre Adirondack Camping Village in Lake George has been purchased for $4.5 million by Athena Real Estate, a company based in Orlando, Fla., and founded by Siena College graduate Richard O'Brien. 
Located less than two miles from the Village of Lake George, the family-friendly campground, features RV sites, camping cabins, and single tent campsites. 
It now operates under the name Lake George Camping Village.
Athena Real Estate is a private real estate investment firm that invests in manufactured home communities, RV parks and resorts, and self-storage facilities. Prior to founding Athena in 2004, O'Brien, a CPA, was CFO for a multi-billion-dollar real estate investment trust. He also worked in the commercial real estate division of GE Capital Corp., and it was there that he developed an interest in real estate investment.
"It was while working in the commercial real estate arm of GE that I discovered these niche property types," he said. "We invest in properties across three sectors—self-storage, manufactured home communities, and RV parks. RV parks is my favorite sector. I think of it as outdoor hospitality, and from my hospitality experience, I try to bring high guest satisfaction to our properties. When we buy a property, we will improve it and try to make it the best it can be."
The company's RV parks are operated under the name of Applebrook RV Parks, and although the majority are located in Florida, Gansevoort's Saratoga RV Park was added to the company's portfolio in 2018. 
For O'Brien it was a coming home of sorts. 
"I'm from downstate, but I went to Lake George in the summers when I was in college at Siena and vacationed there with family. I have many fond memories from that time," he said. 
"For me, the attraction of the Adirondack Camping Village property which was renamed Lake George Camping Village is its location. It is close to the Northway and it's 1.7 miles to the Village of Lake George. There is also very strong demand for the property."
Many improvements are planned for the campground which has numerous on-site amenities including a lodge, heated pool, game room, playground, basketball court, and sand volleyball court. Among the property's approximately 175 camp sites are some that offer full hook-ups for water, electricity up to 50 amps, sewer and cable TV.
"We have already updated the WiFi and plan to make improvements to the sites and would also like to bring in more cabins to the property and evaluate the potential for expansion. Today, we have nine cabins at the property, and we have demand that outstrips what we have available," said O'Brien. "We were highly occupied during Memorial Day and we are getting calls every day for seasonal sites and cabin rentals. We feel very good about our property and hope that it continues to improve for the guest."
According to O'Brien, Applebrook RV Parks  experienced increased demand since the start of the COVID-19 pandemic.
"In general, we saw higher demand for outdoor hospitality. There certainly has been a return to nature, and RV sales and boat sales have gone up tremendously. People are thinking about friends, family, and nature and RVing is a big part of that."
The company continues to look for new investment properties and is particularly interested in expanding with the local area.  
 "We continue to look to grow in the Capital District—Saratoga, Lake George, Warren County, and Albany County," said O'Brien. "We are a nationwide buyer of RV parks but concentrated on the East Coast, from Florida up to New York."
For more information, visit www.lakegeorgecampingvillage.com or www.applebrookrvparks.com.