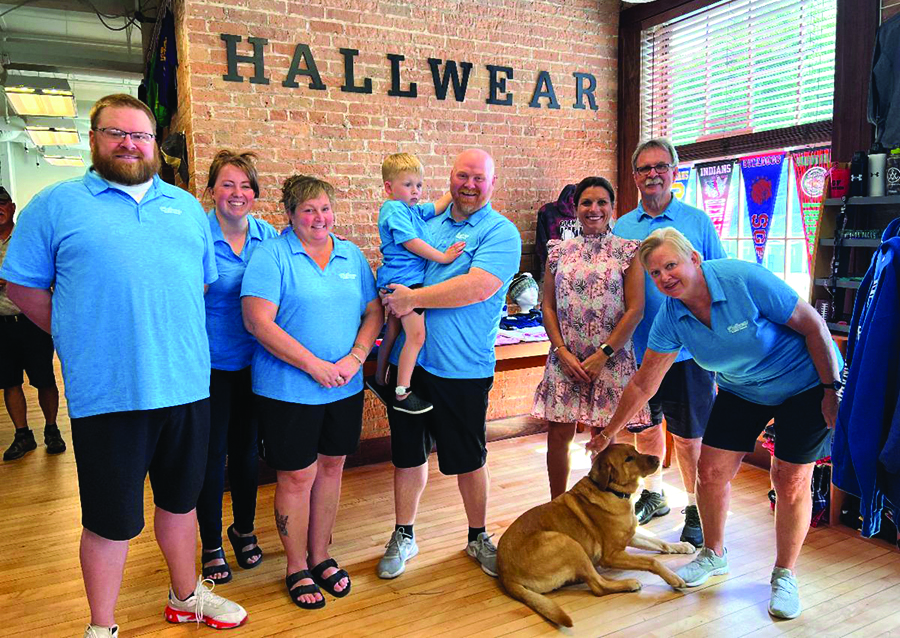 By Jill Nagy
Hallwear, a company producing screen-printed and embroidered clothing and novelties, settled into new permanent quarters at 76 Lawrence St. in Glens Falls. 
They had a soft opening in August and formally cut the ribbon at the new location Sept. 1.
The company has been in business for 26 years, 20 at the same location. They were forced to move from their long-time home when a fire in a nearby apartment caused extensive smoke damage and some minor dismantling of their shop. 
"We got lucky. We were able to save a lot of items," said Kevin Hall, second generation owner of the business. Before moving out, they held a fire sale at the old location. 
The business took up temporary quarters at the Shirt Factory for about a month while looking for a permanent site. The business was interrupted "very little" as they moved into the busy fall season, Hall said. 
The company's customers include area schools and sports teams. Hall said even businesses not on a school schedule seem to like to order in the fall. 
The new building has allowed Hallwear to expand its retail space.
The business was founded by Dan Hall, Kevin's father and a former mayor of Glens Falls. He still helps out in the shop, as do his wife and another son. In addition, there are two full-time employees, Carmen LaFontaine and Jennifer Linsley.
The idea behind Hallwear was to offer customers a simple way to meet all their screen-printing, embroidery, team uniform and corporate apparel needs with specific emphasis on customer service. Since the beginning, Hallwear has been committed to offering competitive pricing and quality products.
In 2007 Kevin Hall joined the staff after his graduation from Binghamton University.
The telephone number is 518-745-0819.
The business website is www.hallwear.com.