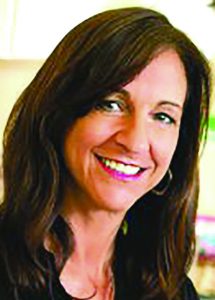 by Christine Graf
A large-scale study conducted in Japan showed that increased work from home has led to an increase in lower back pain, and Google searches for the words "back pain" reached an all-time high in January 2022. Poor ergonomics in the home office are thought to be partially to blame for the worldwide surge in back pain.
Since the start of the pandemic, Denise Didio Buher, PT, owner of Orthopedic and Spine Physical Therapy in Queensbury, said her practice has seen an increase in the number of patients seeking treatment for back and neck pain.
"I have certainly seen an increase in all of this because people have been more sedentary since COVID, and they are all working from home. During COVID, I did tele-rehab, and I had a ton of people from New York City who were really trapped in their apartments. I worked with them to correct their seating, correct their posture, and give them exercises to counteract everything that they were doing."
Dr. Brad Elliott, owner of Elliott Chiropractic in Clifton Park, said he has also seen an uptick in the number of patients seeking care for back, neck, and shoulder pain.
"Home workstations have kept providers like me busy," he said. "There's been a lot of overuse injury from working from home without a doubt. I've seen a lot of neck, shoulder, and upper back issues and a lot of nerve and muscle-based issues from forward head carriage."
Buher is trained in the McKenzie Method, a biopsychosocial system of musculoskeletal care that emphasizes patient empowerment and self-treatment. She also does ergonomic assessments for individuals and companies.
"We really work on patient education and preventing back pain through positioning and ergonomics," she said. 
When seated at a desk, Elliott said feet should flat on the floor with the head centered over the torso and the elbows at or slightly above 90 degrees. And although it should go without saying, he cautions people against working at coffee tables or in recliners. 
According to Buher, "You want the desk at a certain height so that your feet will be flat on the floor. You don't want your knees to be higher than your hips. You want your arms at a height where your elbows aren't reaching up too high or reaching down too low. If your desk is too low, you are going to get that rounded spine of your upper back. Your thoracic spine needs to be extended and your neck needs to be over your shoulders. 
"A lot of the times when we are on the computer we are slouched and our head is forward. Our ears need to be aligned with our shoulders and our shoulders need to be aligned with our hips when are sitting."
When it comes to ergonomics, Elliott said laptops are particularly problematic because it is almost impossible to sit correctly when using one. In order for the hands and wrists to be positioned at the correct angle, the head must be tilted down which puts pressure on the cervical spine.
He recommends laptops users purchase either an external monitor or external keyboard. When using an external keyboard, a laptop stand can be used to elevate the screen so that the top of the screen is at or slightly below eye level. For proper positioning of the screen, Elliott said to place it approximately an arm length away.
Elliott and Buher both recommend the use of telephone headsets and adjustable standing desks. Headsets prevent a person from tilting their head to the side and cradling the phone between the ear and shoulder. Adjustable standing desks enable a person to alternate between sitting and standing.
"I love standing desks because standing and walking are so good for the spine," said Buher. "Standing is a nice break for the spine, but you do need to be able to sit. You need to change your position throughout the day."
Both practitioners say that the single most important piece of advice they have to offer on ergonomics relates to having the proper chair.
"You want to have lumbar support for your lower back so that you can sit back against the backrest," said Elliott. "It's pretty simple stuff, but if you are out at the edge of the chair, everything is in flexion (bent). A month or two of that, and you are going to have issues. Simply said, you want a chair that fits the length of your femur. If you are in a chair where the saddle is too deep and you can't get back against it, you aren't going to have support."
If the chair itself does not provide adequate support, he suggests using a cushion or rolled up towel to fill the lumbar spine–the five bones in the lower back. 
Buher offers similar advice and said, "The most important thing is getting a chair with lumbar support. If you don't keep the arch in your lumbar spine—your low back—that will affect the whole spine all the way up from the back to the neck. Most importantly, you need to support your lumbar spine into what we call the lordosis position which is more of an arched position versus a rounded forward spine."
Because women typically have shorter legs, she recommends women buy chairs with shorter depths. Seat depth refers to the measurement taken from the back of a seating area to the front. For both men and women, she advises against using rocker office chairs which have an unstable base and therefore do not provide adequate support. 
According to Buher and Elliott, people working with multiple computer screens are at risk of developing neck pain that results from constantly turning the head to one side to look at a screen. This can be counteracted by turning the head to the opposite side multiple times throughout the day. 
Elliott also recommends stretches for the lower back to counteract the effects of sitting for long periods of time.
 "Every 20 minutes, change position for 20 seconds," he said. "We like to have people stand up and lean into extension with their low spine for 20 seconds. And look at something 20 feet away for 20 seconds to get your eyes off that screen."
Achieving proper ergonomics in the home office can be a daunting task, and for those who need assistance, Buher offers ergonomics consults both virtually and in person. For more information visit www.orthopedicspinept.com.