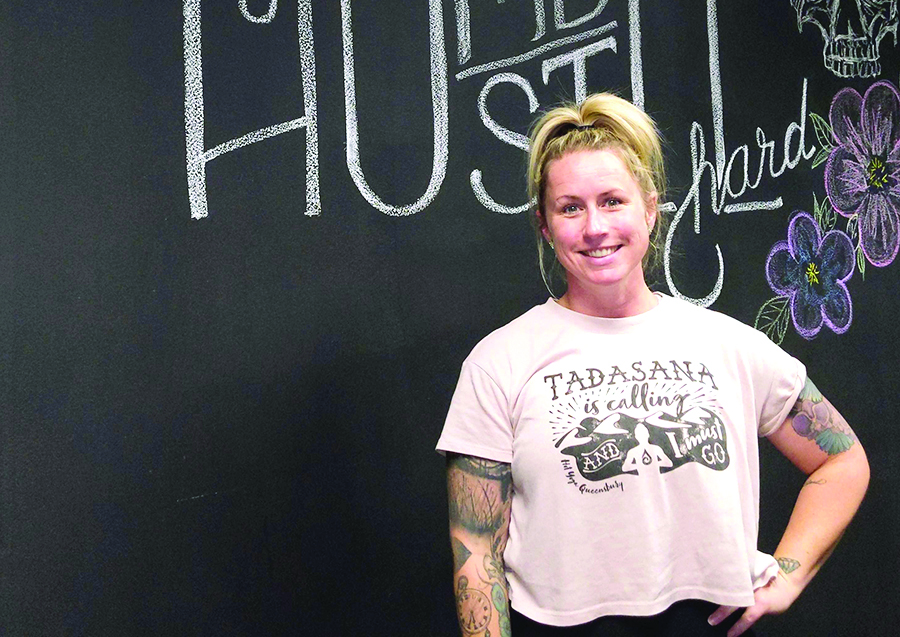 By Andrea Harwood
Hot Yoga Queensbury, located at 118 Quaker Road in Queensbury, is under new ownership.
Serena Smith has been teaching at the Hot Yoga studio for years. In a conversation, former owner Stephanie Angelucci brought up the idea of Smith purchasing the studio. After much thought, she decided to move forward with the purchase.
"Movement has always been a passion for me. It's exciting to make it a career. I feel honored that I get to do it every day. What an opportunity it is for me to help others move every day," said Smith.
"I've owned other businesses before, and the best part is always being part of the community," she said. "I'm looking forward to that again."
Smith owned and operated Taps Tavern in Poultney, Vt., for over 10 years. She has been a chef for 27 years. She also owned a café. 
Her first job was in a Pizza Hut restaurant, and she's been cooking ever since. Smith sold her café many years ago, and the restaurant about a year and a half ago. After cooking and running restaurants and food trucks her entire life, she was looking for change.
"I needed a new and different way to express myself," said Smith.
The Hot Yoga studio has continued its usual classes, and will start to add some new ones. Among Smith's ideas are a donation-based class that benefits a local nonprofit groups. She will also be working on building workshops and retreats, which were popular pre-COVID. 
"Yoga is the core of our studio. I want to maintain the integrity of that practice, while adding a couple fun things," said Smith.
Hot Yoga Queensbury utilizes heat in conjunction with yoga practice. The heat helps burn more calories, improve flexibility and boost cardiovascular fitness. It offers similar benefits as traditional room-temperature yoga, such as improved stress reduction.
"I'm most excited about getting the pre-COVID life brought back into the studio. Honestly, I'm excited about everything—to be there every day, to meet people every day, to practice with people every day. I'm excited about everything. The instructors at the studio all have a wide set of skills, and I'm so lucky to be part of this."
Smith likes to host parties and events and is looking forward to hosting wellness retreats. Her long-term vision includes owning her own yoga retreat center.
"I just want to help people feel good," said Smith. "I want to help them discover and heal through movement and meditation."
"I have to thank (former owner) Steph for this amazing opportunity—truly an opportunity of a lifetime," said Smith. "She built this place over the years, putting her whole self into it. I feel so honored to be the one she has entrusted to move it forward and grow it."
The website for Hot Yoga Queensbury is www.hotyogaqueensbury.com. The phone number is 518-636-5354.